Home at last, or at least back to the 300 Chuff a month hovel in Basel that I call a roof over my head, nice place with all the trimmings, it even comes complete with it's own entertainment, the quite batty, missing a few Rappen to the Chuff, landlady.
I had just finished a five hour run down from Rotterdam and I was fuming after crossing the border into Switzerland and getting shot at for speeding.
It's crazy. Germany is the only useful country in the world without a speed limit on the Autobahnen, the only speed limit is how fast your vehicle can give common sense the finger, the only other country is Nepal, but good luck doing anything over 50 on the goat tracks there.
Imagine, you are bubbling down the A5, relaxed, at a nice and easy two-hundred-and-odd Kmh, then you hit the Swiss border and get totally de-speeded, the moment you see that Swiss cross time dilates and things get reeeeeal slooooow, liiiikkke ruuuunnninnng iiiiinn tttrreaccccleee.
I was overheating and sweaty in my rags and hot enough to register as a heat-bloom on Infrared satellites.
Slammer tries to come over as a badassed biker (badassed bikers may disagree though) the fumes from unzipping my IXS jacket was opening the gates to the pits of foulest Acheron, removing underpants like stripping Velcro and my socks were for want of a better word "crunchy," I showered and relaxed on the couch with a cuppa.
"Knock, Knock"
"Herrrrr Slaaammmmer"
Ah! A thin, quavery whiny voice. Enter on stage, the bane of my Basel life, the mad landlady..
"..A little boy shot me with a bee from his blowgun and it stung me."
I really do not want to know where this is heading.
"Look, right here"
She says opening her blouse with both hands.
Arrrrgh! Even after days I still have nightmares about the dugs from hell dingdangalanging in my face.
It has been a funny 2012 up to now, sadly, or knowing what I know now, maybe a mix of emotions, the gig in Antwerp fell through, the company showed it's self pretty much advice resistant and I had spent two months picking my nose, finger up my arse and my brain running in neutral, totally ignored by pretty much everybody, now in retrospect seeing how they are floundering I must admit feeling a tad smug
HA! HA!
April 27th I packed the bike gave the company the finger and headed of to the ports and a ferry to the UK and my mom. A few days of drinking her whiskey and getting tucked in at night would do me a world of good.
A last run round town then off to the ports.
The time in Belgium was not all bad though, I quite like Antwerpen and the Bollekes, I like the art decor style and that everything is not clinically sterile and squeaky clean as is in CH, people are a bit more relaxed and don't runaround with a pinched look and broomstick up their arses.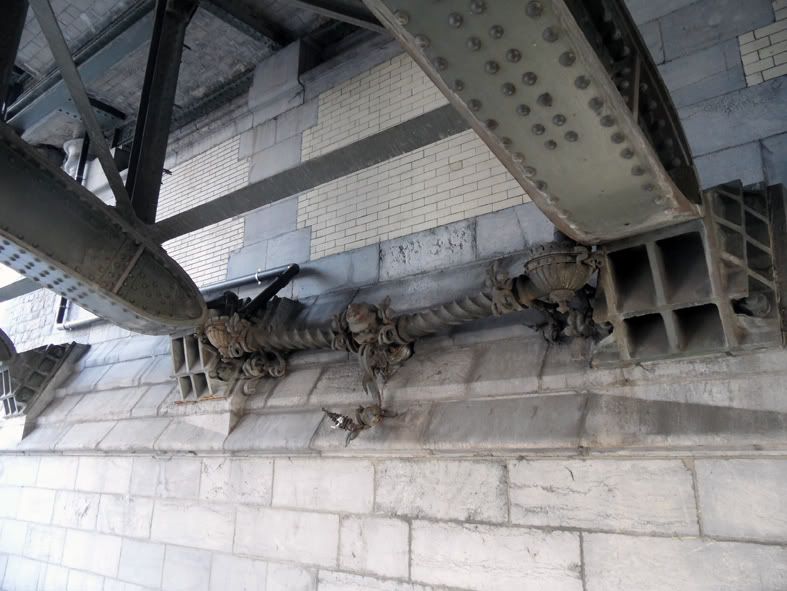 Things as simple as a drainpipe, of course some bugger just had to stick wrapper in it. Philistine.
I found and immensely enjoyed the Anna tunnel, a footpath under the Shelde, with its humongous massive wooden escalators that worked with a bumpy, clunky, wooden sound from the time when radios worked with little glass bottles.
Clunka, clinka, cunkeddy do. Don't that sound like lotsa wood.
Also I met another brother from the BMW LT Forum, "Sleuth" we had gotten on like a house on fire and I had immensely enjoyed his company.
Did the usual things, went drinkies, went to the (brilliant) air museum in Brussels, rode out, did all the man thingies that interest us y-chromosomers.
On the last run we had ridden along the Schelde river on a day studded with patchy rain, a quiet, subdued run, back in Antwerp after the Waaslandtunnel he rode to the left and I turned right.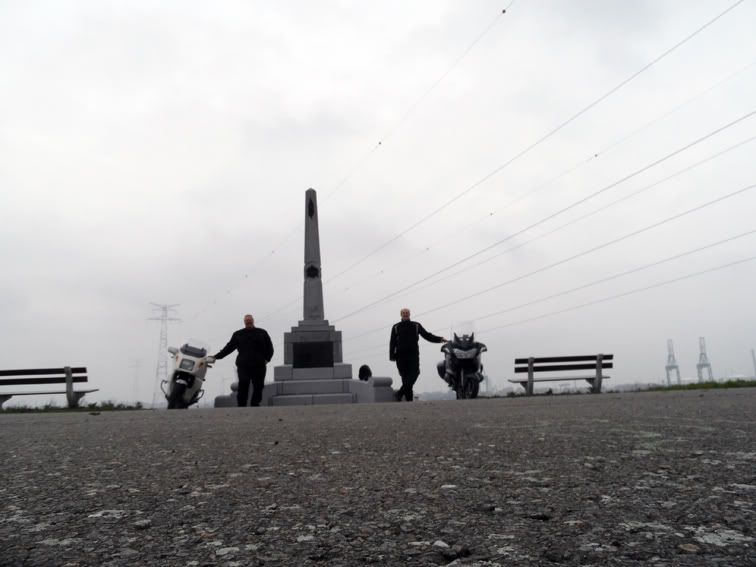 Sleuth and Slammer at the memorial to the WW2 flak gunners along the Shelde. Here is a Interesting bit of trivia
For much of the four months of December 1944 to March 1945, nearly every 90mm anti-aircraft gun barrel produced was sent to Antwerp.
All to shoot down the V1 Flying bombs, I wonder how many bombs are still in the mud of the Shelde.
We also rode through the creepy abandoned village of Doel, right next to the Nuke plant.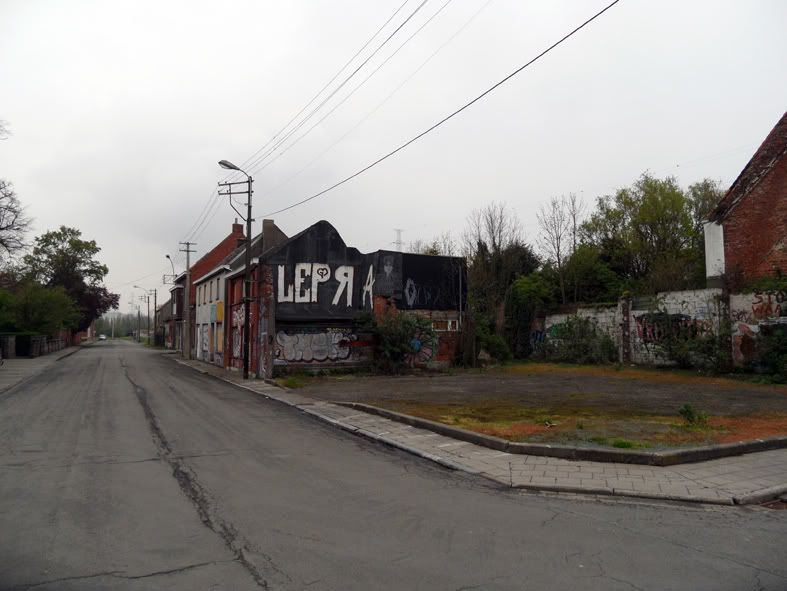 If any white haired golden eyes kids ask me to come and play with them I am so opening the taps.
Late afternoon the handful of bikes on the ferry disembarked and each went their separate ways. Driving on the wrong side of the road is quite a challenge until you re-callibrate yourself. I turned a corner and came face to face with a French car driving on my side of the road, old bugger gave me a French potty-mouthing and I gave some choice lessons in German. Behind me a police car whooped and I thought: "good, gonna give them daft froggies what for"
"Oi, You on the motorbike.. GIT over to the other side of the road"
Ooops!
I spent a few restful days in Blackburn and did my usual run to Glasson dock and the best bacon butties on the planet. sadly the jolly green giant, a huge green caravan that had been the home of butties since I was a kid was gone, replaced by a more modern caravan, when I asked what happened the girl behind the counter told me it had:
"Gone to the great caravan site in the sky"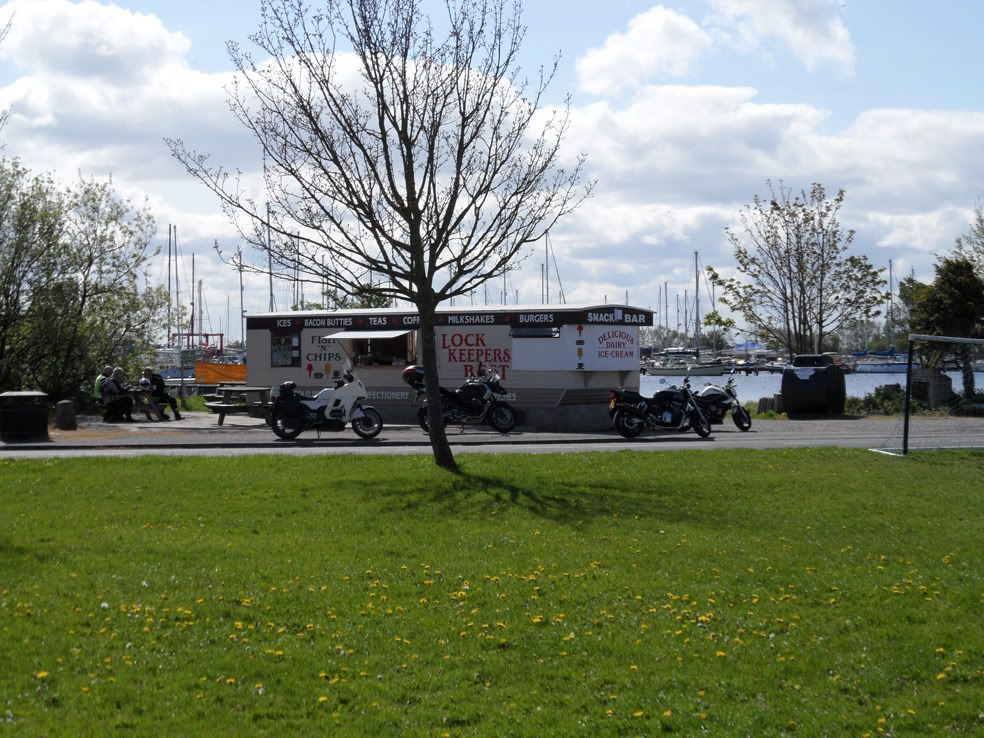 Bacon butties are the same though, All hail the buttie!
I also met up with IanK and Owd Nick for a beer or four, or was it six or seven, memory get's kinda fuzzy.
IanK on the Iron Pig II, great guy and good friend, kinda into male nesting in his flat, and his attempt to match up wallpaper patterns hint to a new kind of Dyslexia, the nails holding the paper to the wall was a nice touch though, I would have used a stapler.
All to soon it was time to leave, besides Mum was running out of whiskey, I headed back cross country to Hull and the ferry to Rotterdam.
Iron Pig II under the Humber bridge.