Discussion Starter
•
#1
•
Now that I have returned from my 48 state tour and the bike is running great I would like to turn my attention to my bike's appearance. I have done a few things like removing the rear logos off the side cases and The Ugly decals on the side Tupperware.
Apparently BMW thought the same thing regarding the rear badges because the 05 and up bikes do not have that rear badge on the side cases. Instead BMW put it on the lid of the top case. I personally prefer only the BMW badge that is there on the back now.
The other appearance modification I did was to remove the fishing rod rear antenna and install a much shorter antenna on the front cowl similar to the RT.
My general idea is to repaint the bike a different color other than the very ordinary champagne color and to give it a bit more modern look.
I have thought about different colors. BMW seems to have rather mundane colors for the LT. I would like to color that spices up the bike a little bit but is not outrageous. One of my favorite colors is red but I think a Ferrari red just would not look right on the bike. When I was on my 48 state tour I saw a Lexus in Chicago that was a beautiful radiant red. I believe that color or one like it would look very striking on an LT and yet not look over the top.
This is the color: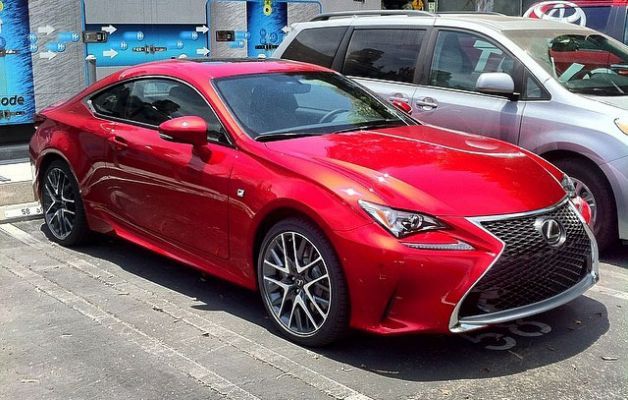 I haven't nailed down the color but it is hard to get away from that color. The problem with it is that it is a very complex color to paint. It's supposed to be a multi-stage base and all sorts of complicated things. Anyway I'm still open to color but I think it's a very beautiful color. Honda Goldwing has a Caliente red and some other reds that are quite nice looking.
Anyway if you guys have thoughts on a spicier color or color scheme let me know.
One other issue regarding color is the lower Tupperware piece on my bike is painted silver. One option would be to paint that body color whatever the new color would be or the other option would be a different color or even just leaving at Silver. I kind of like the idea of leaving at Silver to give it a little bit of a stock look still. I don't really want a completely customized paint job that doesn't look like it would have ever come from the factory. I'd like to still have it look like a factory look but just something better.
Wheel color is another thought but my initial thought is to leave it the factory silver period other options are black or some other color. I'm pretty strongly inclined to leave it Silver.
Regarding customization, I would like to remove the chrome trim on the side cases because it makes the bikes look a bit dated. For example looking at the K 1600 GTL, the side cases do not have chrome trim on them. They do have black on the lower part which I don't agree with. I think the LT would look much sleeker with body color on the entire side cases including the handle and latch and removing the chrome trim and filling in any holes or whatever is needed period I don't believe I have ever seen an LT without that chrome trim. If that's the case then I think mine will be the first because my strong inclination is to remove it.
I think the mirrors would look better without the Chrome outside piece. I think it would look better body color so my inclination is to paint that body color.
I would like to figure out a nice badge for the side Tupperware. I discuss this a little bit in my first thread. I think something along the lines of an k1600gt badge..... that would be a chrome background with black letters. I wouldn't mind keeping a bit of chrome like the covers on the windshield bolts and some of the lower Chrome. I just don't want too much of it. I think a chrome badge with black letters would look pretty nice.
I think a BMW badge on the nose cone just under the windscreen would look pretty nice. I saw a picture of an LT with that and it looked good... subtle but nice.
What do you guys think? I'd like to hear your thoughts and ideas and any pictures or Photoshop pictures that you can do.