Discussion Starter
·
#1
·
Not a rider, but even more important to me:
BPK's Tri-N 2 B A Tiger
"HOBBES"
LITTLE BUDDY
12-25-96 to 01-22-08
Most of you are not aware Hobbes was diagnosed with bladder cancer last July. He put up a hard fight, but today we helped him cross the bridge, because the tumor had grown and blocked his kidneys and before he got really sick we gave him our last gift. Up until just recently Hobbes was always his feisty happy self. If you met him you never saw him without a grin on his face, even though in most photos he looked serious, Hobbes was anything but. He was described as a Stand-Up Comic in another life and that was fitting.
He was a constant joy and inspired Ann and I into several things we never would have dreamed of trying. He was the first to do Obedience, Agility, Herding, and because of him we now have several other dogs involved in various performance sports and some that have already retired. Hobbes first love, besides food, was Agility. Right up to the end he wanted to go to class and even if it meant only jumping one or two jumps he didn't care, cause he knew he would get a treat just the same as if he ran a full course. We want to thank Jody, our trainer, for insisting we continue to bring him to class. She knew how much he loved it too.
Ann and I both showed him for several years in Agility. I think Ann put the most titles on him, but he and I qualified twice for Nationals and got to go to lots of shows together. My most cherished memories of him will be seeing his tail spinning in circles as he ran a course. He really loved the sport and he loved us unconditionally.
Hobbes journey began on Christmas Day in 1996. He was born a Christmas present, but we had no idea how special a present he was going to be for us. The first day we brought him home, we knew deep inside that he was more than just a pet. There was something in those smiling mischievous eyes that said he was going to rock our world. Never once did he let us down.
Today was hard, but not impossible, because we know that we did everything humanly possible to help Hobbes. Dr. Daly, his Oncologist, never stopped looking for a cure and Dr. Quillivan, his Veterinarian was willing to go along with anything if it would help, but the tumor was just too aggressive. We had to let him go, before he became too sick, or hurt too much to say good by. We spent last night saying out good bys and feel lucky that we were able to do it in time. We both have a huge hole in our hearts right now, because he was a very special boy to us, but we have other fur kids that are ready for our undivided attention again and that helps. Thank you for your support, comforting words, or for just reading this and looking at the photos.
This was our "Little Buddy" Hobbes:
The day we brought him home:
8 months old:
3 years old: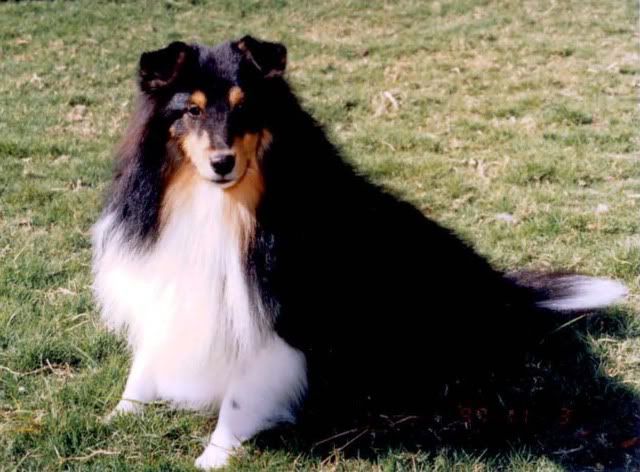 Running Agility with Dad: