Discussion Starter
•
#1
•
bik·er
*(bkr)
n.
1.
One who rides a bicycle or a motorbike….
...For some the bike is a fashion accessory, like the guy who owns a Harley as a complement to his expensive leathers, you know the ones, they have a beverage holder, electronically regulated for both hot and cold beverages bolted somewhere on the frame.
Then there is the biker for whom the bike is a hobby, he is a glorified stamp-collector, one who would pin his bike to the wall like a butterfly if he had a nail big enough.
Then you get the guys for whom a bike is a life style, rockers and greasers fall into this category, lonesome cowboys of the Autobahn
Then you have Slammer and a select few others for who biking is more our sexual orientation, the only time I would consider not riding is when nature inches a glacier over the road.
Iron Pig II is not a molly-coddled polished beast languishing the winter under a heated blanket, she is outside, grimy, streaked with salt and nursing a slight oil leak, ready to roll at anytime, just the way I like my bikes.
I have a itchy throttle hand and I get a phantom pain between my legs when I have not taken the pig for a ride for over 24 hours.
Saturday was such a day and I needed to kick the tires and light the fires, we filled up with cheap CHian petrol, we checked our oil and we headed north along the A5.
last summer on a trip when bubbling along the same stretch without a care in the world I heard a plane, flying quite low, it sorta registered without me actually thinking about it, when…..
GrrrrrroooOOOOOOOWWWWWWwwwwwwllllll I was overtaken by a Focke Wulf FW 190 WW2 German fighter.
A bit of internet research later and I found out that they were restored at Meiermotors in Bremgarten (
http://www.meiermotors.com/
)
So today was as good a day as any to go and have a lookie-see.
Achim Meyer the owner was banging and clattering around in the guts of a huge Chevy truck when I pulled up so I asked if I could take a peek.
It's pretty amazing to get up close and personal to aircraft that you normally see only in museums and on occasion at an air-show, but unlike in a museum where the souls of the "exhibits" have long gone to dust and corrosion, these planes are alive.
("planes alive," must be a man thing, a woman just wouldn't get it)
Achim was kind enough to take me around his factory.
Every nook and cranny was filled with all things warbird related, Merlin engines in all versions, every last one meticulously rebuilt, spotless and better than factory new, the merlins however looked like Matchbox toys against the American Wasp's and a massive twin wasp radial engine.
German Jumo 211 and Daimler-Benz 601 engines, power plant of the Messerschmitt, painted black, brutal and powerful looking machines.
Unlike the incredibly beautiful and filigree Hispano-Suiza, simply a work of mechanical art.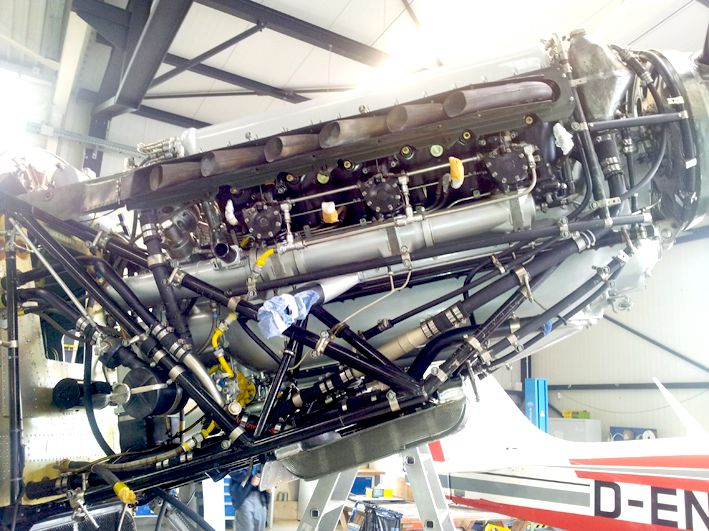 A Spanish-Swiss Hispano-Suiza, the powerplant for a rare Eidgenössische Flugwerk F+W, C36.
I drooled over and stroked Spitfires including a rare two seater and looked at my reflection in the mirror finished duraluminium skin of a P51 Mustang, I was amazed at how dainty a Soviet Yak 3's looked in comparison, however my jaw dropped over two Messerschmidt 190's undergoing restoration, one of them a hyper rare relic of the legion Condor.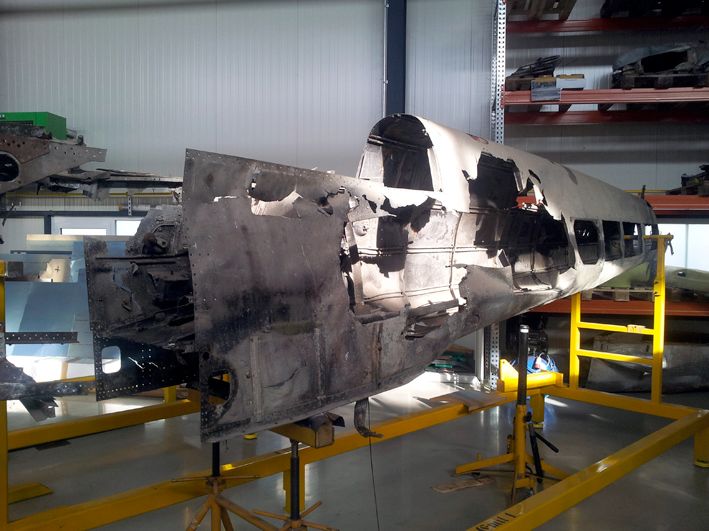 Don't look much but this Legion Condor era Me109 will fly again.
In the middle of the hanger with it's wings folded like a Nightclub bouncer, a F4 Corsiar, built by Goodyear, totally badass and black as sin, a plane that looks as if all daddy planes went and had sex with all mummy planes, they then abandoned their offspring who went psychotic.. Standing there it gave the impression as if it could eat Mustangs and 5hiit Spitfires.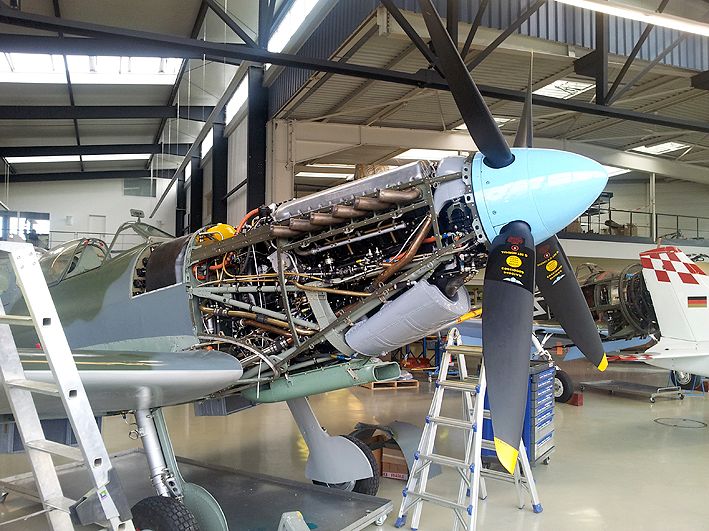 A twin seat Spitfire, care for a ride?
F4 Cosair….
…just so much…plane!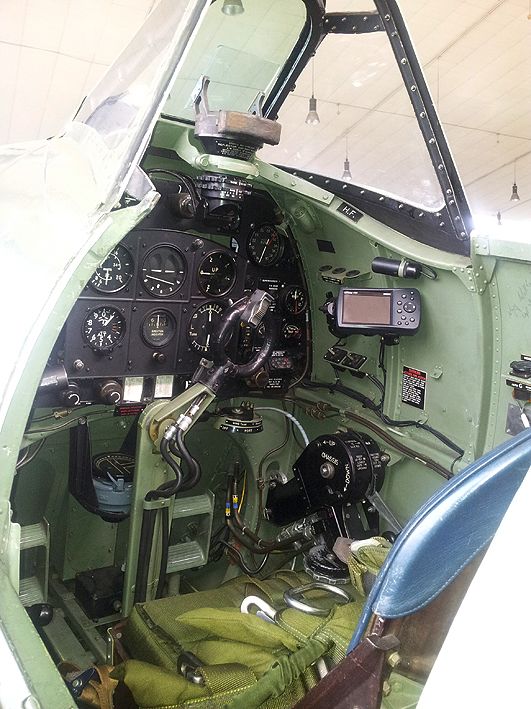 The cockpit of a mark VIII Spitfire, ready to rock and roll.
However, against the far wall, almost as if ashamed of itself was a example of one of the most deadly aircraft ever fielded in combat, a tiny, deadly sleek and even in its unrestored condition evil looking Reichenberg-Gerät, a manned version of the Doodlebug.
A last ditch Selbstopfer or suicide weapon, a tactic that was thankfully stopped before hot operations and thus the Germans never got the same infamous reputation of the Japanese Kamikaze.
Achim told me that the simulation tests they had conducted showed that had the Reichenberg been given a better engine it would have made an excellent anti bomber interceptor, cheap and simple to to build, armed with cannon instead of a ton of high explosives, swarms of them would have caused havoc in the allied bomber streams.
Brrr! What could have been, sometimes I shudder.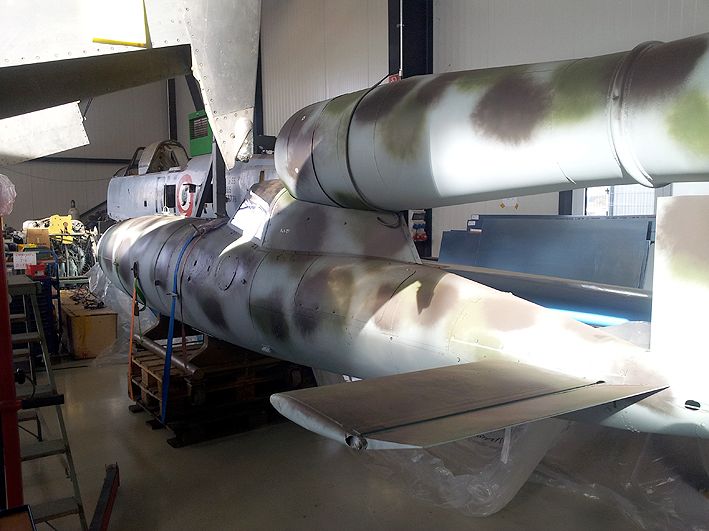 The Fiesler Fi 103R, Reichenberg-Gerät, for the life of me I can't imagine the fanatic mind-set needed to fly my machine into a target and end my life for Volk, Vaterland und Führer.
Mayermotors also offer a ride in a twin seat P51 Mustang with Achim as your pilot, this is now sooo on my bucket list. Just look at the grin on the face of the guy in the websites vid.
I spent a good two hours in Bremgarten and still under the influence of so much plane-porn I bubbled off towards Münstertal in the Blackforest.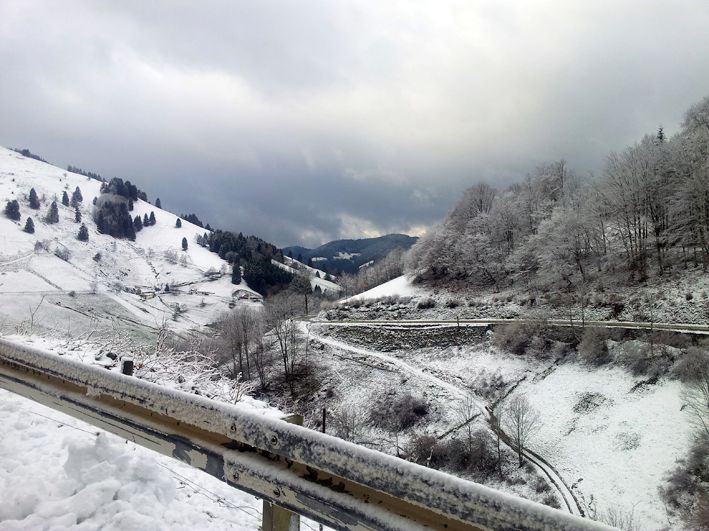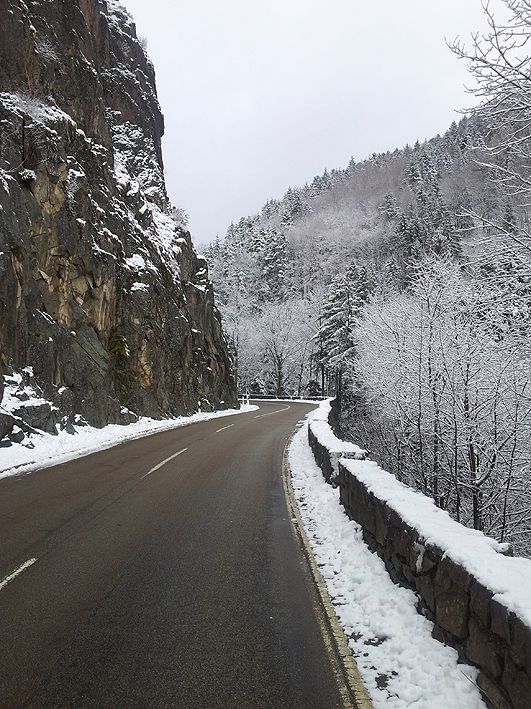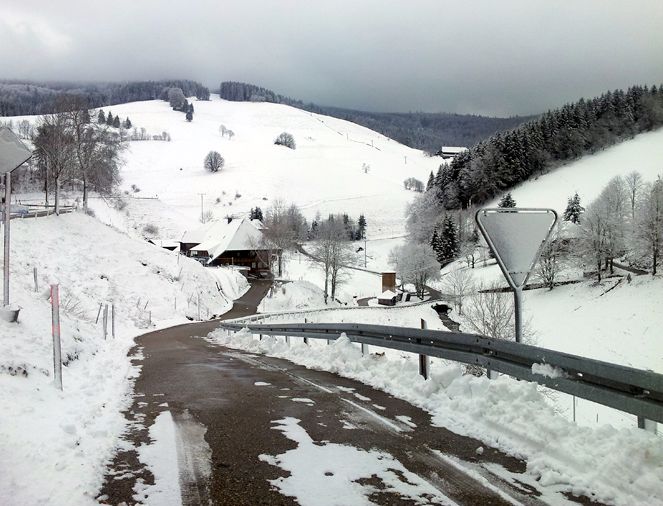 Still chilled by the Reichenberg but not as chilly as this landscape.
There was still around two hours of daylight left and a few nice curves and hairpins would hopefully give me that fighter plane pilot feeling, however a few hundred meters over the snow line and I noticed a wall of Payne's grey cloud coming in from over France and in the draft under my helmet I could taste the sharp tang of coming snow, this year I had not mounted winter tires and my Bridgestone's, as good as they are in normal conditions will harden in temperatures under 5° thus loosing grip and making riding in snow a gingerly affair. I had the feeling that any longer and I would overstay my welcome on the mountain.
It was time to boogie and I decided to turn back and ride another day.
Got back to Basel just as the rain started to turn to snow.