Final Drive - Small Oil Leak
Let's talk final drives. I was washing my '09 K1200LT (29k miles on it) today and noticed a shmear of dirty sludge/oil on the bottom of the unit, centered around where the black rubber "boot" is fastened with the metal band. I ran my hand across it; there are no drops waiting to drip off or anything, but there's an area of black goo that is thickest at the bottom-most point of the metal band.
What's next? Understanding I won't get into something like that, should a dealer take a look at it? And of course, the warranty expired about 2 weeks ago. Shoulda bought an extended warranty...
Is it OK to ride or should I cease riding it immediately? I was planning on going to Cleveland and back tomorrow (< 300 miles round trip), and to the Iron Horse Lodge next weekend (1100 miles round trip plus day trips).
This photo shows the view from the rear. It desn't look too bad now because this is after it was washed, but there was a very light film of oil on the drive housing. I thought this was road goo until I got closer into it. You can also see a light film on the rubber boot.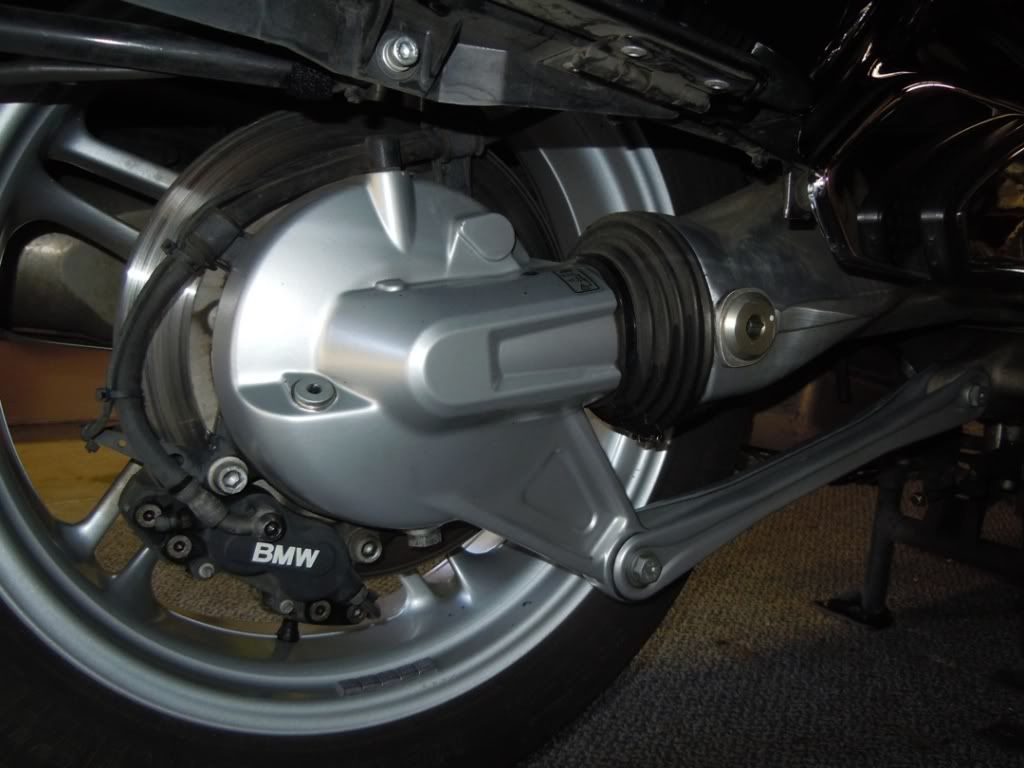 Here you can see where the sludge/goo/oil/whatever is thickest. You can also see that oil has dropped down onto the arm below the final drive - look closely, on the inside of the curve.
I'll be waiting, hoping for some good news from you all, but we'll see what you have to say. I already sent a PM to Dr. Zeiler, but I know there are others out there (CharlieVT and Saddleman come to mind) with similar experience and knowledge that will have helpful comments.
Thanks.