LT Trike
---
Anyone trike out their LT. What company conversion did you use and what did it cost?
---
06 K1200 LT
03 Yamaha Roadstar Custom
Senior Member
Join Date: Feb 2007
Location: Helsinki, Finland, Europe, Northern hemisphere
Posts: 594
Re: LT Trike
---
Here is a nice one. Also for LT.
http://www.youtube.com/watch?v=hPH-YvHotNk
They even seem to have military & seniour citizen discounts available
---
Born to be wild so why not

To view links or images in signatures your post count must be 10 or greater. You currently have 0 posts.

Re: LT Trike
---
Hannigan makes the best trike conversion for the LT. You can go to their web site for prices and to see what the finished product looks like. I had my 2000 LT converted a couple of years ago, and just love it.
Re: LT Trike
---
I own a 2009 LT trike that was converted by Hannigan right out of the crate. I bought it used and currently have close to 30K miles and no problems with the trike end.

Local BMW dealer performed the 24K mile maintenance on the LT portion of the bike and used the Hannigan maintenance info to service the trike end of the bike. The service manager said the trike maintenance (check rear brake cylinder, fluids, pads, differential fluid, axle lube, etc.) was same as working on a Ford rear end.

Like previous poster noted, Hannigan has a price list on their web site. I 'm really happy with the auxiliary fuel tank extra road mileage. Another consideration for me is the rear axle.

My previous trike (Suzuki) had a Lehman conversion with a solid rear axle. The Hannigan for BMW has independent rear suspension (IRS) which I really prefer to the solid axle. Most notably, last year I was into some NC mountain twisties in a solid rainstorm and several times I felt the the rear end start to slide, but the BMW ABS plus the rear end IRS kept the bike true on course with no unfortunate incident.

I haven't run across many LT trikes in the Southeast, but the ones I have seen are all Hannigans like mine. Maybe if you search the Trike Talk forums you will find another LT conversion manufacturer, but I don't remember seeing one.
Re: LT Trike
---
Here's something else to consider - there is a big difference between a trike conversion and installing a trike kit.

The conversions (Hannigan, Champion, Roadmaster, factory built Harley Triglide, California Side Car [CSC] and a couple of others) totally remove the rear end of the factory bike and attach a custom built car-style rear end to the frame and drive shaft. (okay, yes I know some use chain or belt drive also, but far less common).

OTH. the trike kits (Voyager, Tow-Pak, Trigg and others) keep the factory bike rear end and add a custom set of wheels and fenders to give your bike a trike look and feel. Now you have a four wheeler! Three wheels in the rear. The original back tire is the drive wheel and the other two are .... uh, I dunno, maybe like the training wheels on a bicycle?

Apologies to any Voyager owners out there. Just giving my personal observation here on the motor trike issue. Strange as it may seem to some of you, there are a thousand ways to trike a two wheeler. It's a whole different world which I really enjoy in my senior years.

Ride safe and often.
Re: LT Trike
---
We had our 2007 LT conversion done last Spring by Hannigan in Murray, KY. We are very pleased with the trike. Given the market on LT's, the cost of the conversion is really pretty reasonable versus selling and buying a new bike.
Ray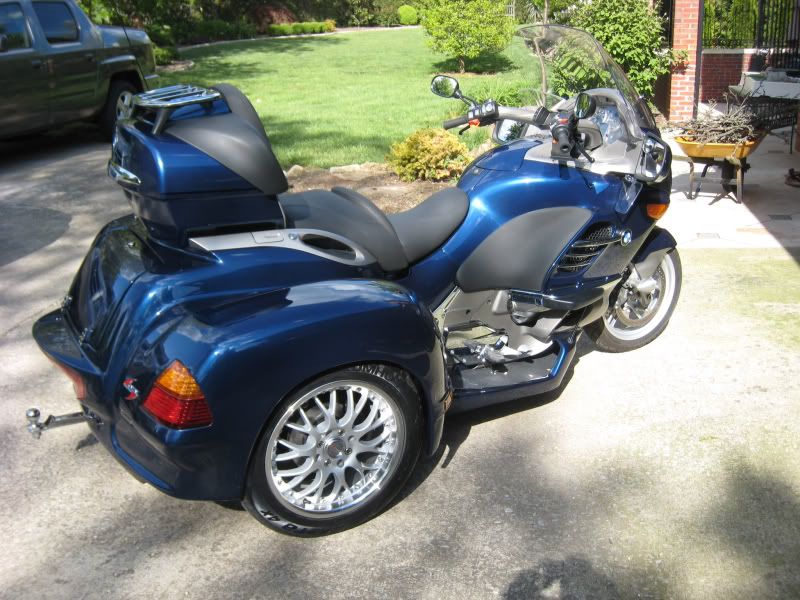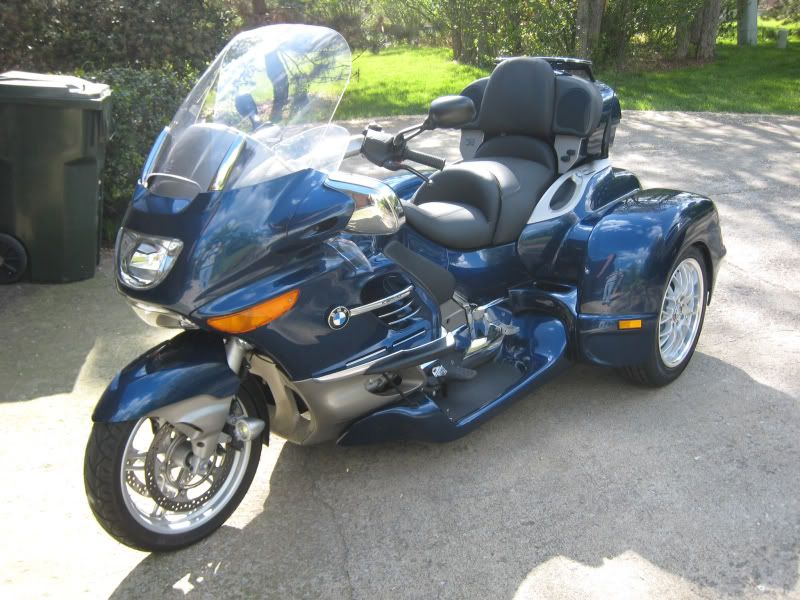 ---
2007 K1200LT Hannigan- Blue
2012 R1200GS - Rallye
1973 R75/5 Toaster - Black
Member
Join Date: Jan 2007
Location: lincoln, ne, USA
Posts: 83
Re: LT Trike
---
+2
06 LT , 08 trike converation with Bustec....+ 3 on Aux. fuel tank.
Don't use it much but like to know it's there..


Dennis
Currently Active Users Viewing This Thread: 1

(0 members and 1 guests)
Similar Threads
Thread
Thread Starter
Forum
Replies
Last Post
Lehman & BMW trike?

Triker

Trailers, Sidecars, & Trikes

10

Sep 15th, 2014

11:47 pm

Thinking of a Trike

EricSuz

Trailers, Sidecars, & Trikes

24

Mar 25th, 2014

11:55 am

Thinking about a Trike.......

twinrider

Trailers, Sidecars, & Trikes

17

Apr 20th, 2009

11:17 am

Time for a trike or to trike

big dog

Australia, New Zealand, and AsiaPac

9

Sep 29th, 2008

4:10 am

Trike Hire

Waz

K1200LT

5

Dec 13th, 2007

4:57 pm