Member
Join Date: Aug 2008
Location: Toronto, Ontario, Canada
Posts: 84
Any book recommendations?
---
Ok so I parked the bike for the winter and am feeling blue. With Christmas coming around the corner am wondering if there are any good book recommendations on motorcycles? What's your favorite motorcycle book?
---
Dirk

08 R1200 RT (traded in)
09 R 1200 GS (Sold)
14 R1200 RT WC (UK Bike - totalled)
16 R1200 RT WC
Re: Any book recommendations?
---
Proficient Motorcycling by David Hough. I read my copy at least twice every riding season.

Leanings by Peter Eagan. A compilation of Peter's best columns about motorcycles and riding. Great book!

Top Dead Center by Kevin Cameron. An engineer's wonderful musings about motorcycle racing, building, design and assorted techinical trivia.
---
Inside my 60 year old body is a 35 year old brain wondering what the hell happened.
2005 K1200LT
2005 Suzuki Burgman
BMWMOA #130574
Re: Any book recommendations?
---
against the wind
story of an Iron Butt ride........
---
Allan..Illinois, Oregon, Arkansas, and tomorrow the Universe
2003 K1200LT trike - Starfighter
2004 R1150RTP - Combat Touring
IBA #38152
BMW-MOA 97667
Patriot Guard Riders
...and man of leisure


To view links or images in signatures your post count must be 10 or greater. You currently have 0 posts.

Re: Any book recommendations?
---
"Total Control" by Lee Parks
"Sport Riding Techniques" by Nick Ienatsch
and
"Deep Survival ... who lives, who dies & why" by Laurence Gonzales
"Deep Survival" isn't a motorcycle book per se, but it gives some great insights into why accidents happen to both novices and experienced veterans of various sports & activities. Sort of a dry read, but it definitely applies to motorcycling.
Finally, I would recommend the DVD, "Ride Like A Pro" by Jerry Palladino. you can find it at
www.ridelikeapro.com
.
---
Kevin
'06 K1200LT
Junior Member
Join Date: Jun 2008
Location: Washington, DC,
Posts: 27
Re: Any book recommendations?
---
The Long Way Down and The Long Way Round
Re: Any book recommendations?
---
There are several books about living in the South.Still riding and temp today
mid to upper 60's.Anything beats parking the bike.
Vic
2007RT
Central Alabama
Ride Hard, Ride Smart: Ultimate Street Strategies for Advanced Motorcyclists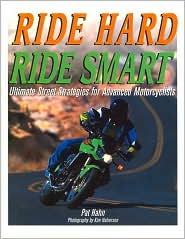 ---
2018 K1600GTL
2012 K1600GTL (retired)
2003 K1200LT (retired)

IBA # 35048
Member
Join Date: Aug 2007
Location: Rockville, MD, USA
Posts: 74
Re: Any book recommendations?
---
"Lois on the Loose", a great read. Get it used from Amazon.com.
Currently Active Users Viewing This Thread: 1

(0 members and 1 guests)