Junior Member
Join Date: Dec 2004
Location: , ,
Posts: 25
Kochman boots
---
Does anyone know a vendor who can get these boots. I've got a pair of the Kochmann Red bike that I've about worn out. I never dreamed they would quit importing these boots. So what I am wondering have any of you purchased from a particular vendor over in Europe that handles the Kochmann brand ?
Re: Kochman boots
---
Is this the boot you are referring to?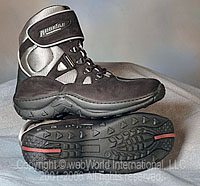 These were probably the best pair of boots I've ever owned. They got ruined from a quick connect gas leak. I looked around too and they can't be found, have to import and that's too expensive for me.
---

To view links or images in signatures your post count must be 10 or greater. You currently have 0 posts.

Airwolf - 2018 K1600GTL (planned acquisition!)
2005 Charcoal LT - 48K
2003 Antracite LT - 76K
2001 R1200C 24K
1999 Honda Magna - 5K (RIP)
Junior Member
Join Date: Dec 2004
Location: , ,
Posts: 25
Re: Kochman boots
---
Yes that's the newer version of the ones I have. When you say its too exspensive did you find a vendor ? Where did you purchase the ones you have? I originally seen a review in Motor Cycle Consumer news an ordered mine from a vendor in Colorado. But its been so long I can't find my invoice . An I have read that there not exporting to any .MC suppliers here in the States. I was just wondering if anyone had dealt with any one in EU that can ship them direct knowing it would not be cheap , but can it be done ?
Re: Kochman boots
---
I contacted the manufacturer by email. You can buy directly from them, I can't remember the price, but it was ridiculously expensive. Close to $300 with shipping. There was an export issue and they decided to not put the effort into meeting some new requirements.

First pair was around $90. Wish I had bought two pair.
---

To view links or images in signatures your post count must be 10 or greater. You currently have 0 posts.

Airwolf - 2018 K1600GTL (planned acquisition!)
2005 Charcoal LT - 48K
2003 Antracite LT - 76K
2001 R1200C 24K
1999 Honda Magna - 5K (RIP)
Currently Active Users Viewing This Thread: 1

(0 members and 1 guests)