6 states in 5 days
---
Prologue - "Grampa's Lake"
I spent my summers at a resort near Pelican Rapids, MN that my grandparents owned and ran. Some of my fondest memories are from my time up there with them. They sold the resort in the late 80s and eventually, it turned from a family resort with 5 cabins to privately owned McMasions. The cabins are still there, but they've been built up and barely retain the charm they once held, at least in my mind. I haven't been up there since 1986. Both my grandparents passed away last summer, one month apart to the day, and I've been thinking about them a lot. I've also been thinking about the lake a lot and how I miss those carefree days. And, I've needed to go on a moto-trip -- so what better a place than "Grandpa's Lake", as I used to call it.
Leaving Iowa City, IA, I'll be heading northeast to pick up the Great River Road near Dubuque. I'll wind my way up the Ol' Miss to Menomonie, WI where a good, old friend of mine lives. I'll most likely stay with them that first night, then make my way up to Pelican Rapids, MN and Maplewood State Park, my camping home for the night. I plan on spending that day checking out the old haunts and getting reacquainted with Lake Franklin and the surrounding area.
From there, I didn't really know where I wanted to go. The idea of making some sort of major river loop came to mind and I figured I'd head over to Bismarck, ND and take the Missouri River down through ND and SD, then head back east through Nebraska and Iowa and back home. All in all, I'll be cover six states, two of which I haven't ridden a bike through yet, Minnesota and North Dakota.
Day 1
Wednesday, 8/14
Iowa City, IA to Menomonie, WI
350 miles
I started off a little after 10am. I had a few work things and a short "honey do" list to attend to before taking off. First off, some packing notes. I was never really good at Tetris, but that said, I'm generally a very good packer and can "see" how things should all fit together before I actually pack. This helps immensely while packing for a bike trip. Here's what I took and where it was packed for the 5-day journey.
52L topbox:
• Tent
• Sleeping bag
• Sleeping pad
• 2 camp pillows
• Tarp
• LED lantern
• Extension legs for Kermit chair
• Pair of sandals
Left pannier:
• Dry bag of clothes
• Toiletries
• Towel
Right pannier:
• Tool roll
• Cooking stove/utensils/camp fuel (in small dry bag)
• First aid kit
• Matches
• A couple boil-in-bags
• Rain gear
Back seat luggage rack:
• Kermit chair
• Pair of shoes
The bike wasn't overly heavy feeling, but you could feel the top weight a bit in corners. Nothing I haven't dealt with before, so no biggie.
By the way, overall, the RT handled like a dream. I put a lot of hours in the saddle on this trip and over 2000 miles, so I feel I really got to know the bike. I would drive this bike all day, every day, and not feel that I was over taxing it in any way. I really just ate up the miles. From a comfort standpoint, I could go about 3 or 4 hours without need to get off and stretch a bit. I started out the trip with an AirHawk pad, but quickly took it off as I found the stock configuration much more comfortable. So, for me, the stock seat is more than adequate, which surprised me a bit. Must have a hard ass or something.
OK, so off I was. I made an impromptu stop in Anamosa at the National Motorcycle Museum. Being only 50 or so miles north of my home, it seemed a shame to have never stopped here before. Well, being on vacation and all, I decided today would be the day. I'd say it was worth the price of admission ($1 off for MOA members, by the way). Here are some snaps from my hour or so visit.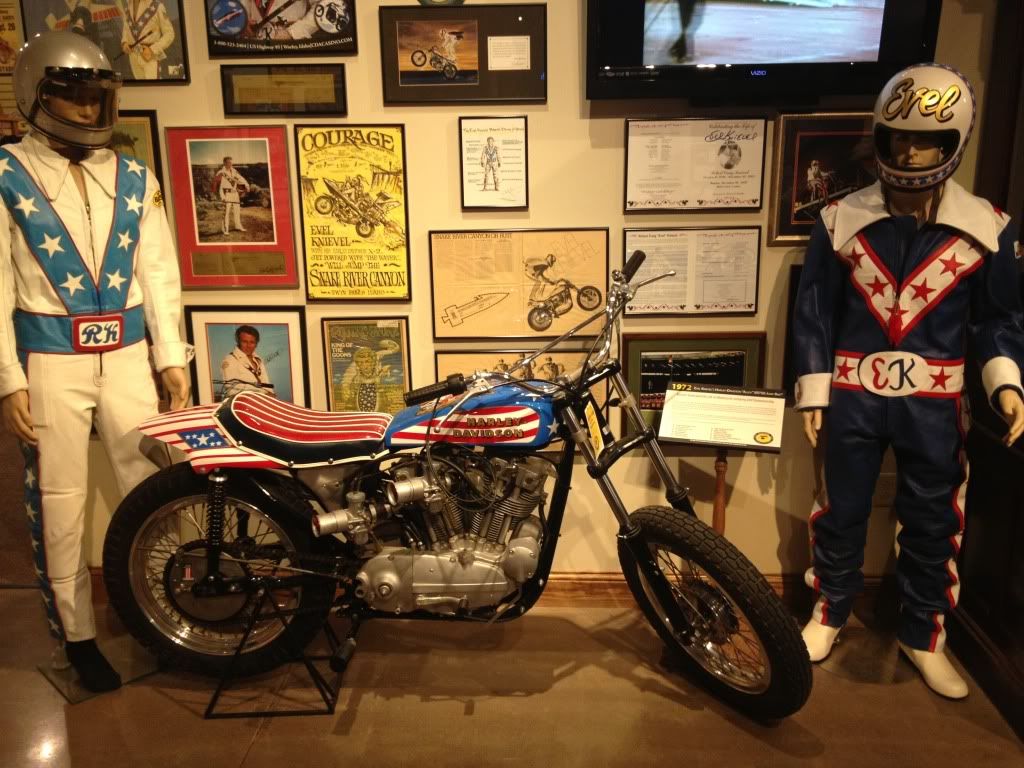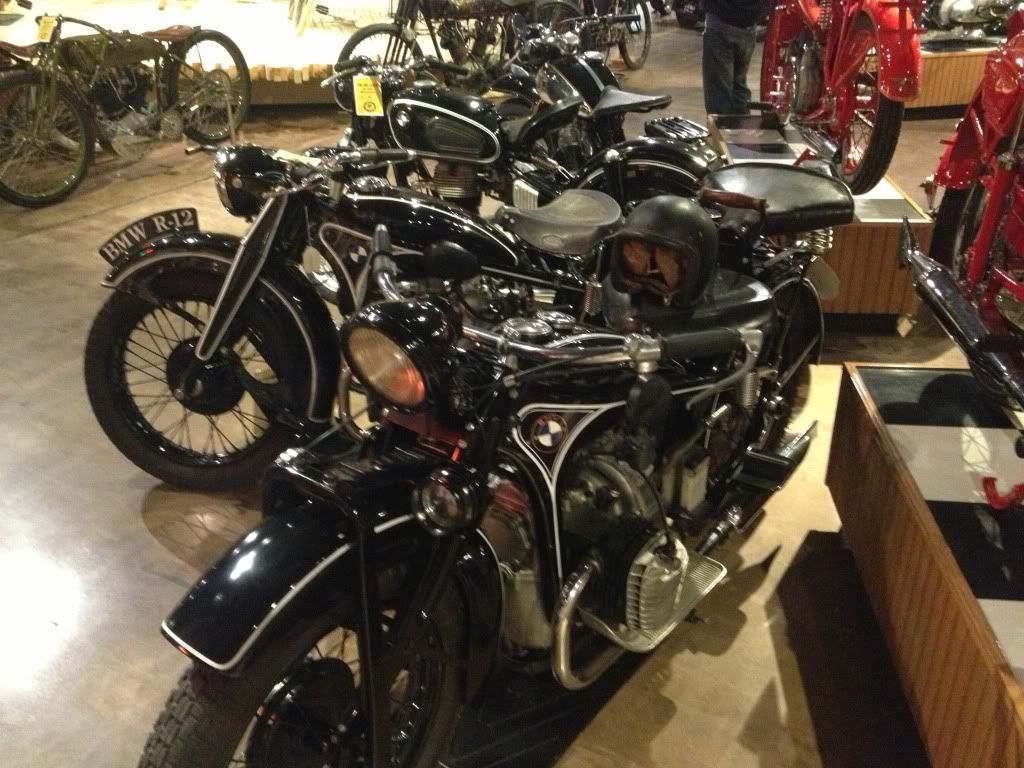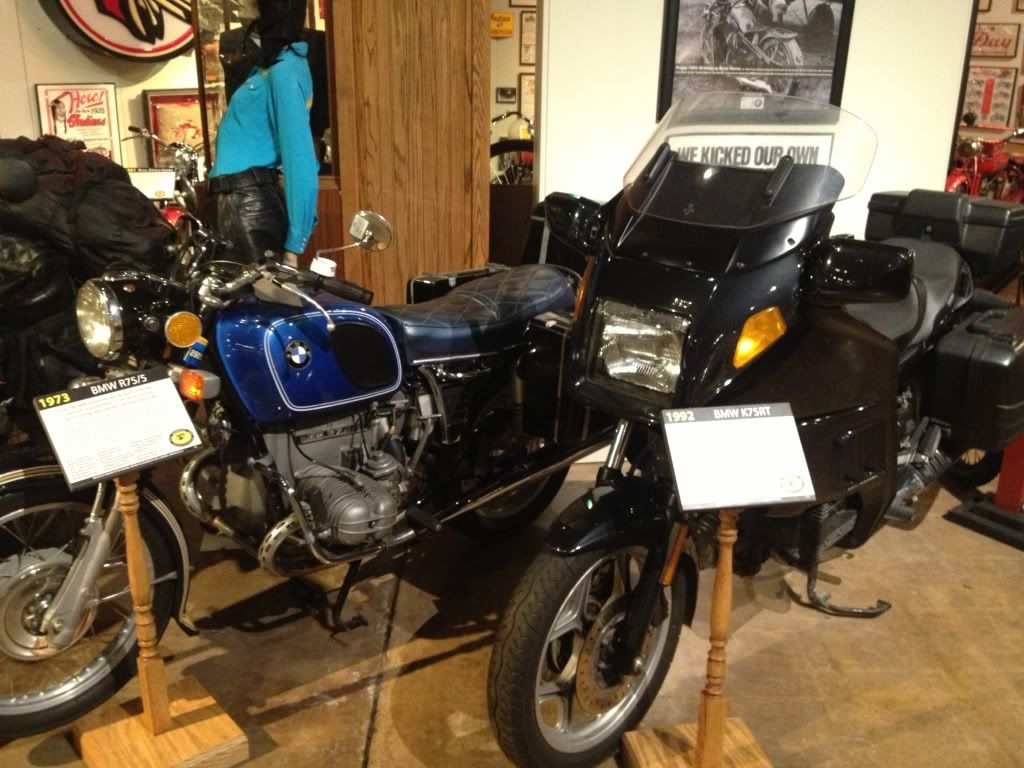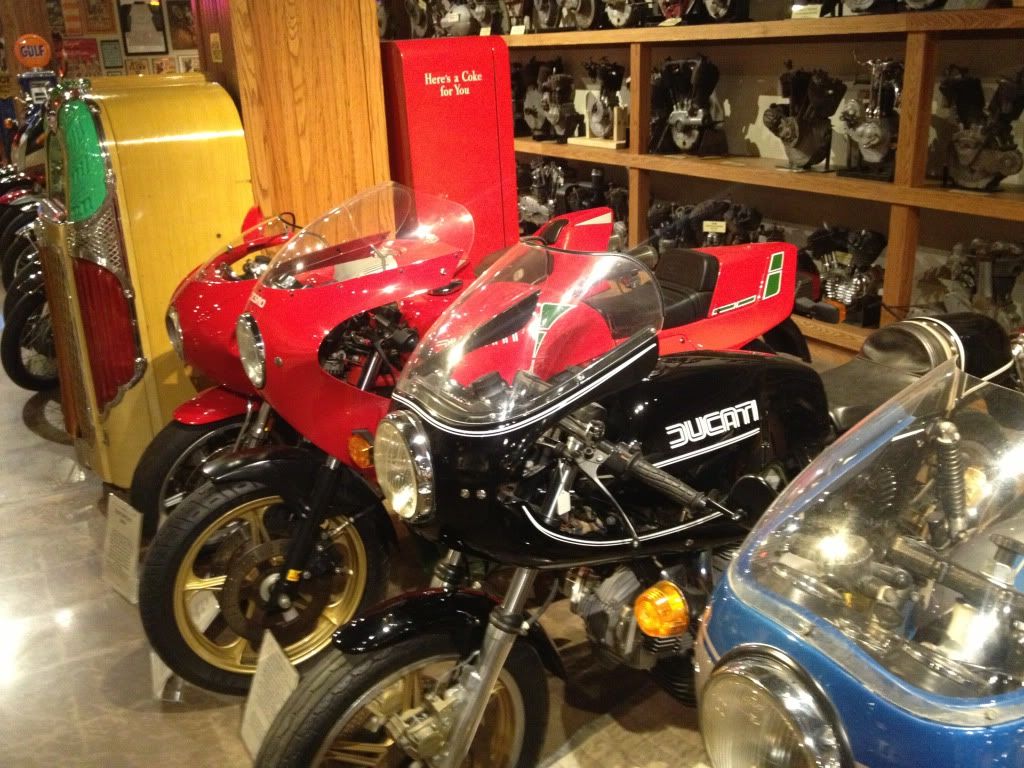 Heading east from Anamosa, the day's drive really kicked off. I was looking at a total distance of approximately 350 miles that would get me to some friends in Menomonie, WI around 7pm that evening. After traveling through Iowa farmland east for an hour or so, my route had me heading northing via the Great River Road on the Iowa side of the Mississippi River. I've ridden parts of this road before and you wouldn't know you were in Iowa when you're cruising this stretch of road. Heading north, I had sheer rock cliffs to my left and the meandering Mississippi on my right for much of the way up towards the Iowa/Minnesota border. I stopped in McGregor for a quick water and butt break.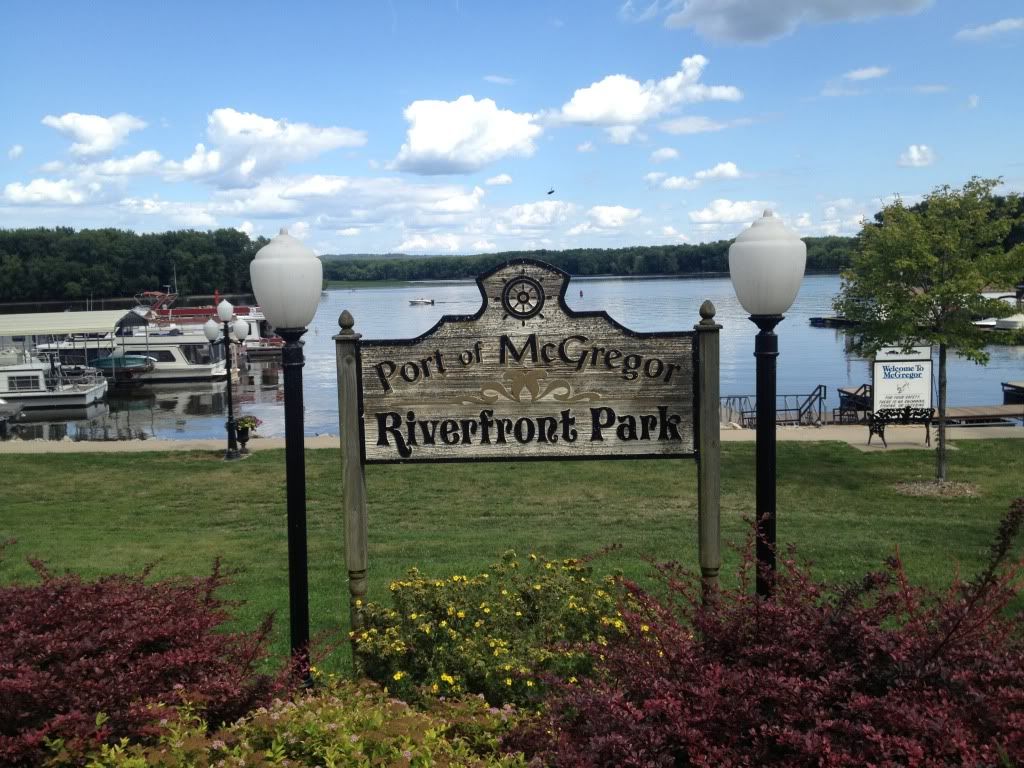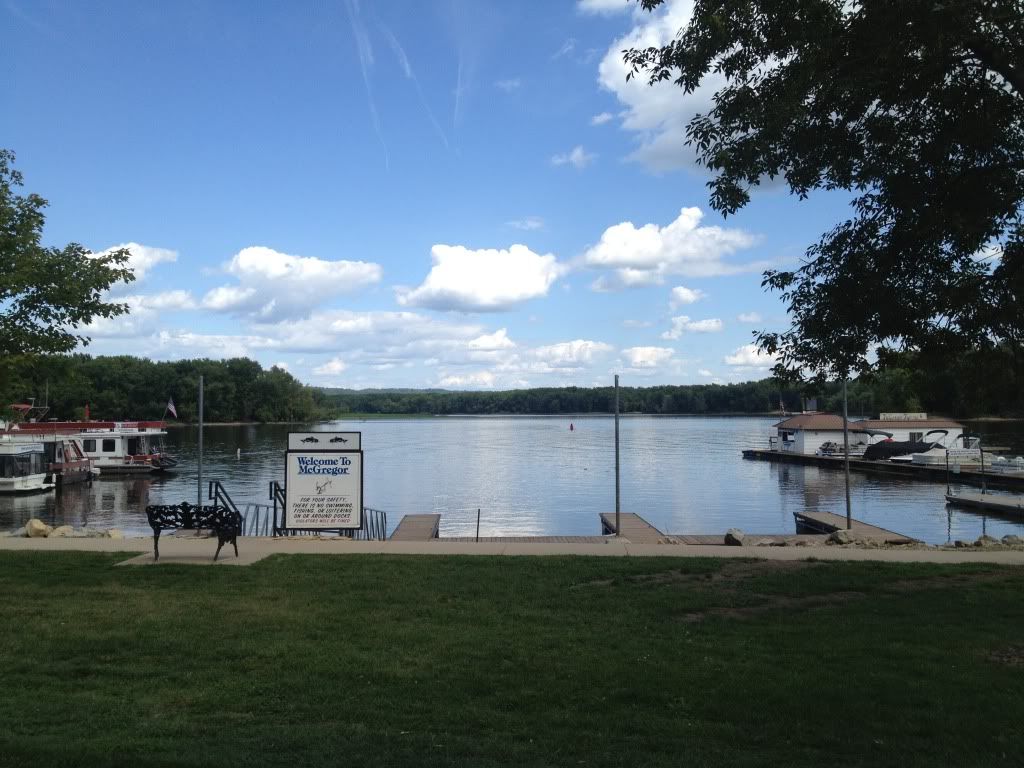 I eventually left the Great River Road for some backroads heading north from Minnesota up into Wisconsin and my final destination of Menomonie. Nice little town with a satellite U of W campus where my friend's wife teaches (I guess she's my friend too, so let me rephrase that – where my friend teaches. Anyway, after some sushi, a few beers, and catching up for a few hours, it was time to call it a day.
Day 2
Thursday, 8/15
Menomonie, WI to Pelican Rapids, MN
320 miles
I spent half the day hanging out in Menomonie before hitting the road around 2pm. Today's ride will be a bit shorter than yesterday's, but I'm starting much later and still have some pretty significant miles to cover before arriving outside of Pelican Rapids, MN at Maplewood State Park. The trip was pretty with lots of varied landscape. And, a lot of road construction. Wisconsin and Minnesota are a lot like Iowa – two seasons, winter and construction. I got to enjoy some highways that were reduced to wet gravel and rock and some freshly oiled roads as well. Nothing to worry about and actually broke up the day a bit. I stopped right outside the Wisconsin/Minnesota border to grab some homemade root beer. I believe I was in Grantsburg. Anyway, after a quick drink and a gas fill up, I was off.
On the way, I drove around Mille Lacs Lake, in north central Minnesota. It's huge. I'm sure there's more to it than that, but there you have it.
I finally arrived at Maplewood State Park around 9:30pm. There was still a little light, but by the time I got to my campsite, it was pretty much dark. And, more gravel roads to the site. It was actually quite fun and, although the RT is a big bike, it handled the bumps and jumps without any hesitation or issue. I quickly set up my tent and got a bit organized before heading back out to grab some firewood and adult beverages in Perham. Not a lot of options in that town, but I was lucky enough to grab both. I got back to the site around 11pm and proceeded to veg out in front of the fire for hours. I think I finally hit the sack around 2am.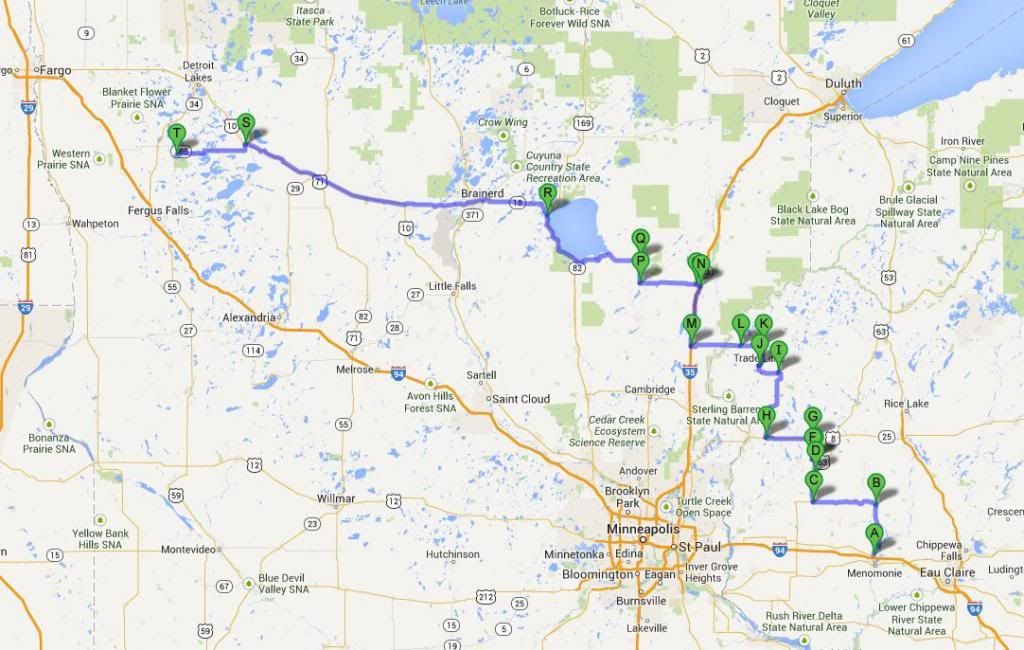 Day 3
Friday, 8/16
Pelican Rapids, MN to Bismarck, ND
260 miles
The next morning, I was up and ready to go find my grandparent's old resort. But first, a spot of breakfast and a visit to an old friend in Pelican Rapids. Breakfast at the Crossroads Diner wasn't too shabby – but, food always tastes better when you're hungry. The old friend is the world's largest pelican that stands below the falls of Mill Pond. There must be hundreds of pictures of me standing next to this thing as a kid. It was good to see it again.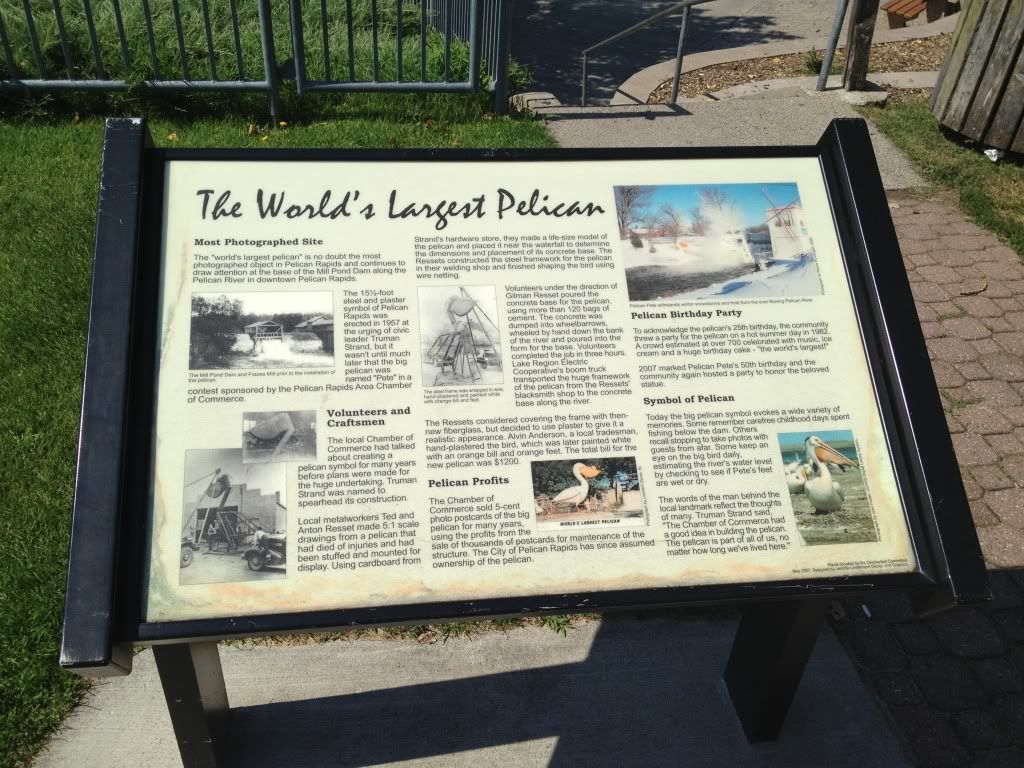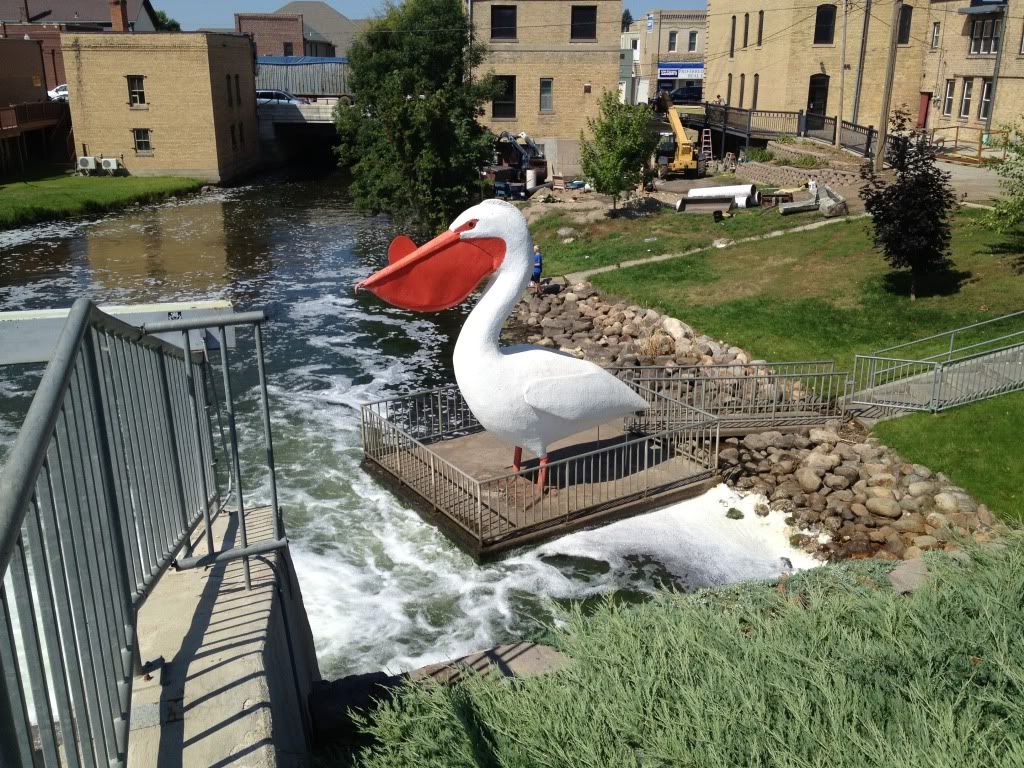 As I mentioned, it's been over 20 years since I'd been in these parts and never had I driven out there. So, I got lost of more than one occasion, but it was a nice kind of lost. Lots of lakes in that area and it's very attractive terrain to drive through. I finally found the road to the resort and everything fell into place – the sites, the sounds, the smells – everything was at once familiar. I road into the once-resort and talked with a nice woman who lives there now. I told her who I was and she was absolutely fine with me wandering around, taking photos. My grandparent's house's basement doubled as the resort shop. It's since been converted to just a basement. The cabins are all still there, but look nothing like they did when I was kid. They look nice, just different. The lake, as you can imagine, hasn't changed much. Everything looked smaller though, most likely because I was so much smaller when I was there last.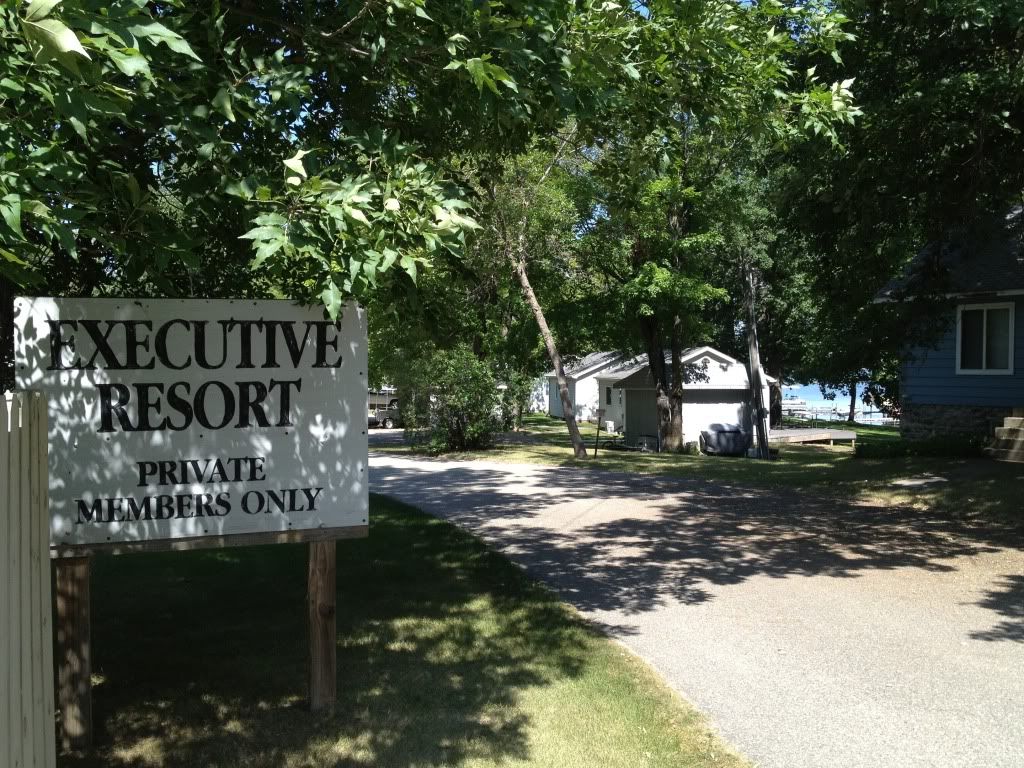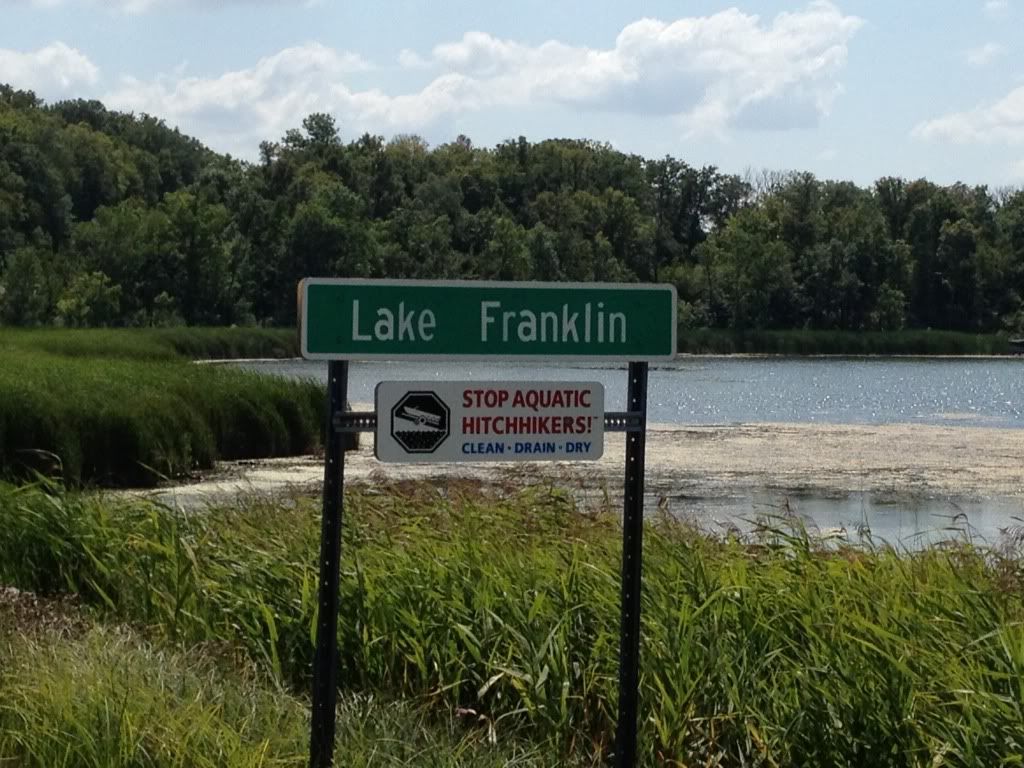 After trespassing for an hour or so, it was time to head back to the campsite to break camp, pack up, and head out for Bismarck, ND. Pictures of my site and one last picture of the pelican for good measure.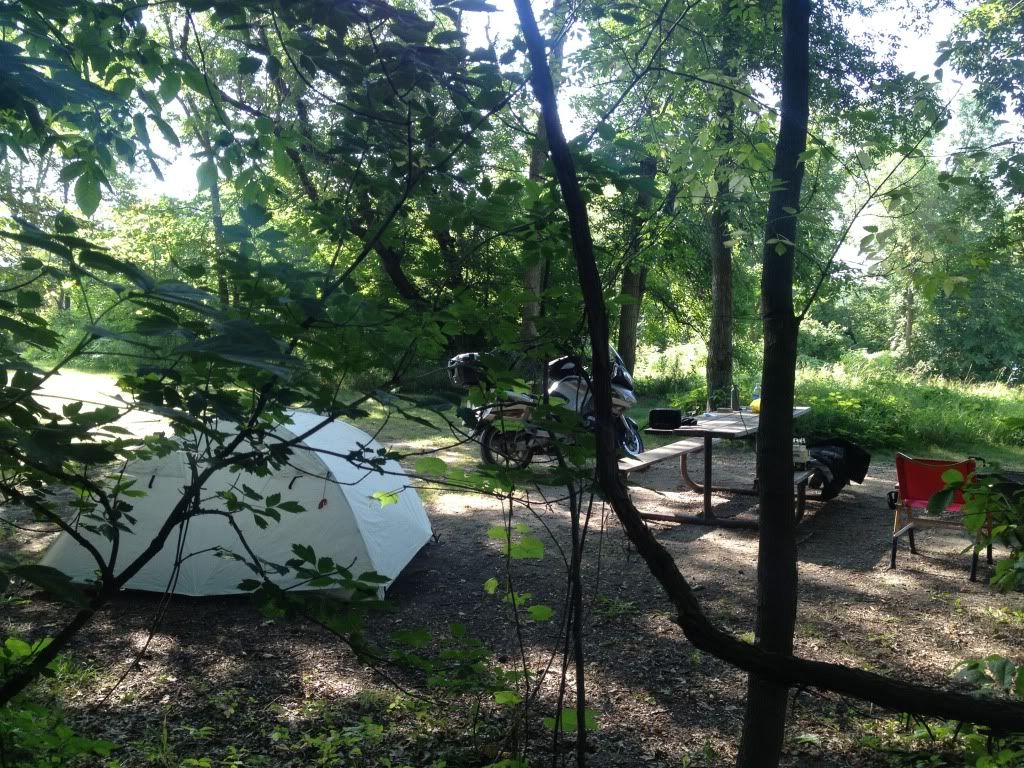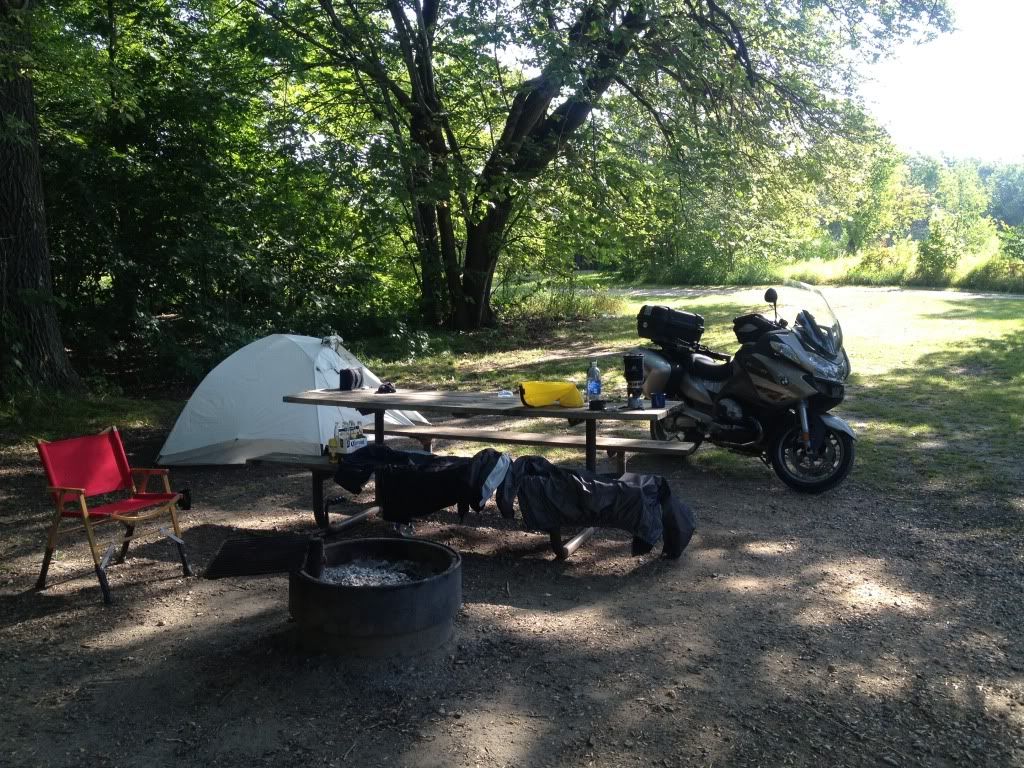 I left for Bismarck about 2pm after breaking camping and taking a quick shower at Maplewood. I was to ride mostly I-94 today, so it was pretty much boring. The heavy wind out of the south made things a bit interesting, but that was about it. I was set to camp at Fort Abraham Lincoln State Park that night and, short of it having a campsite and being a big green square on the map, I knew nothing about it.
I got to my campsite, got set up, grabbed some firewood from the camp host, and headed back into Bismarck for some food and more adult beverages. Being Friday night, the campsite was a little raucous, especially at the site right next to mine, but with those aforementioned adult beverages coursing through me and a pair of decent ear plugs, I slept like a baby.
Day 4
Saturday, 8/17
Bismarck, ND to Randall Creek Recreation Area, SD
380 miles
Turns out, there's quite a bit of history surrounding Fort Abraham Lincoln State Park, both Native American and Colonial American. First, the Mandan tribe had a 90+ earthen lodge city here. A few of the lodges were rebuilt and you can take a nice little tour of the village. I was pretty impressed with the site and it was a total surprise to me that it was even there. Then, it turns out that General Custer's cavalry was stationed just a bit south of the Mandan village. Re-enactors walk you through Custer's home and give you a bit more insight to life on the prairie back in the 1850s. Along with Custer's house, there's a couple of barracks, a granary, a stable, and a commissary – all of which you can explore on your own. All in all, both these attractions were a pleasant surprise and I spent most of the morning just walking around and checking them out.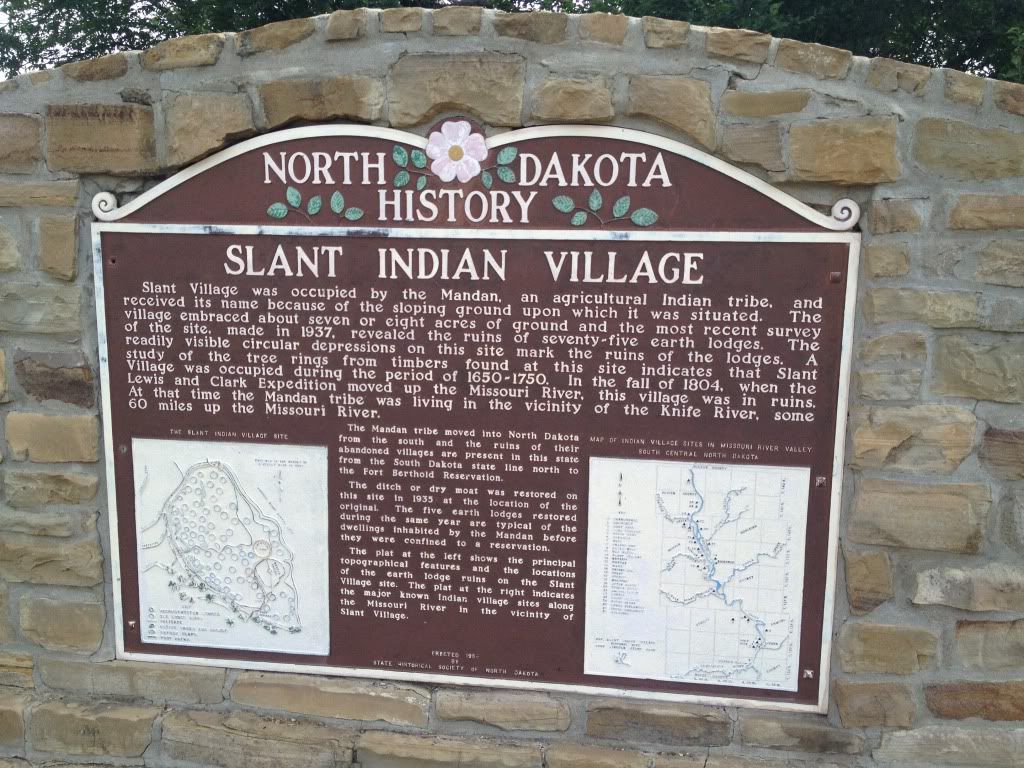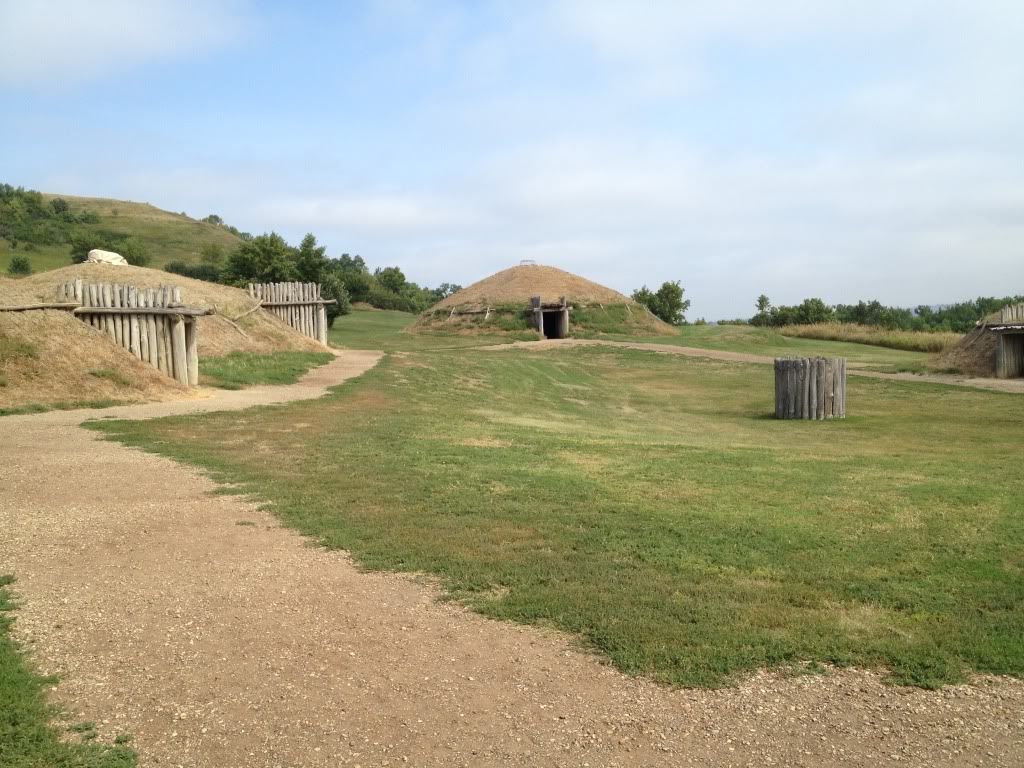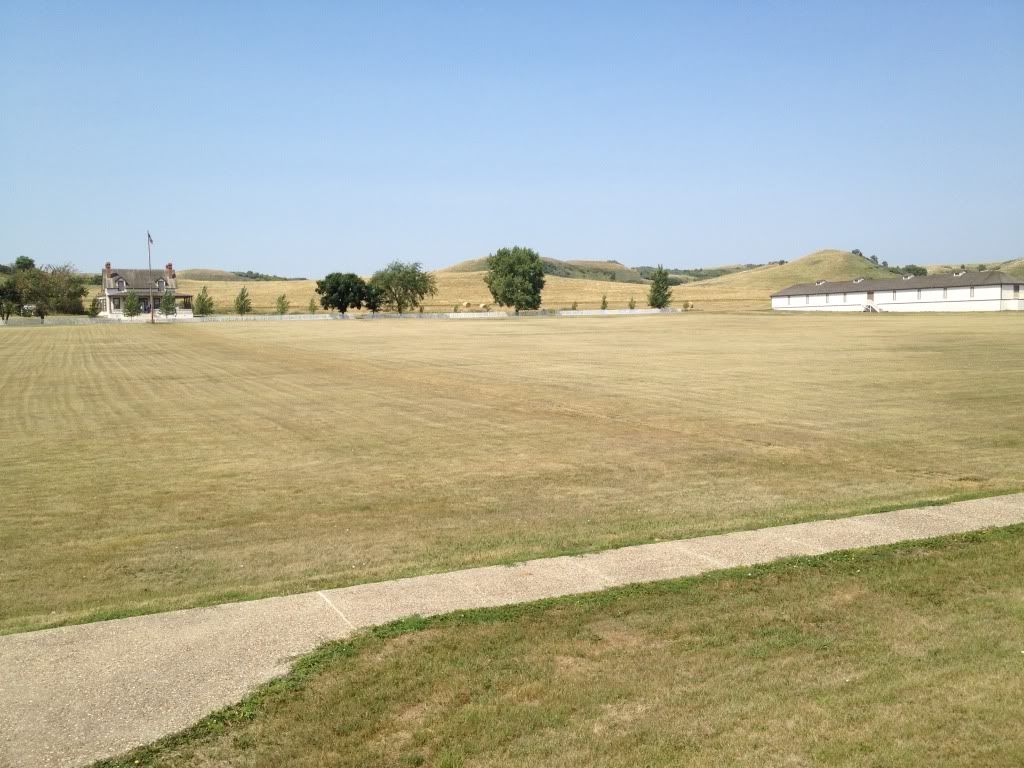 I hit the road around 1pm and headed south through North Dakota and South Dakota, arriving at my last campsite at Randall Creek Recreation Area, just north of the South Dakota/Nebraska border. It's pretty much in the middle of nowhere. The ride down was nice, with a varying amount of landscape – from grasslands to rocky outcroppings to fields and fields of sunflowers. I got to camp, set up and unsuccessfully attempted to get my damn campfire to light. Defeated, I took a shower and hit the hay.
Day 5
Sunday, 8/18
Randall Creek Recreation Area, SD to Iowa City, IA
460 miles
Sunday was the last day of the trip and a big push for home. My last camping night wasn't too great, what with my lack of campfire and decent food, but I actually slept quite well. Which was a good because I put a lot of miles in the saddle that day. The ride over to Iowa City was pretty uneventful with the highlights being hitting my last and sixth state of the trip, driving through the huge metropolis of Monowi, NE – population: 1 (it actually said that on the sign), and stopping by for a quick visit with my parents in Sioux City, IA. From Sioux City, it was I-29 and I-80 onto home, where I pulled into the driveway at 10pm. Nothing too special that day.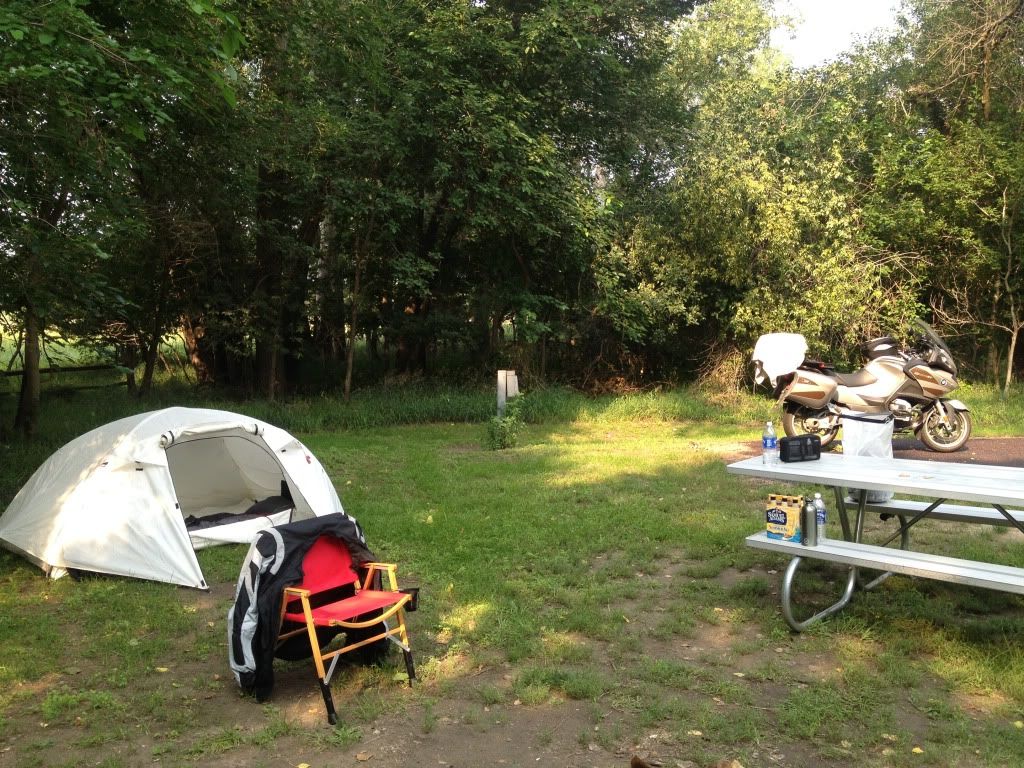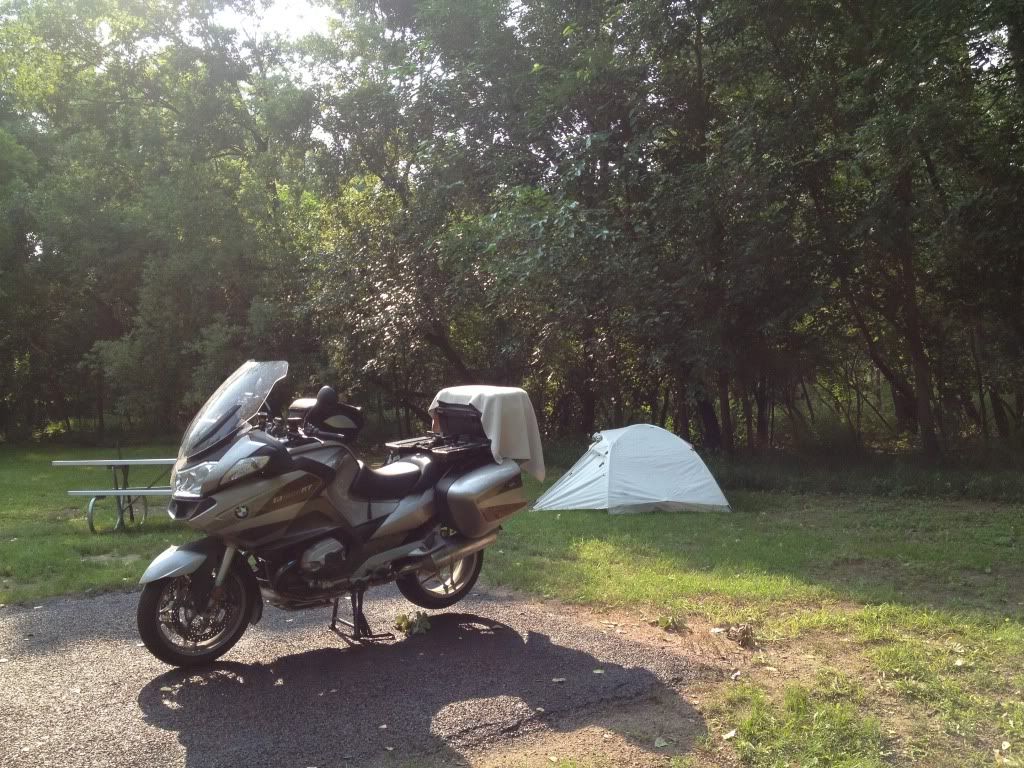 So, there you have it. In total, I put 1964 miles on the bike and it handled each one with ease. I'm going to need new tires, but short of that, both bike and rider came back in one piece each. Looking forward to my next trip already!
---
.
"Looks like I picked the wrong week to stop sniffing glue..."

2015 BMW R1200RT - "Artoo"
2012 BMW R1200RT - "Arthur", RIP
1985 Ford Escort L (for Luxury) - Ol' Blue - gone, but not forgotten
MSF RiderCoach
BMW MOA 175432

Re: 6 states in 5 days
---
Spice - sounds like a great trip. Too bad you had to do so much on the interstates, but that's often the most expedient way to get from Point A to Point B. I'm officially jealous, especially after I got rained/hailed out from much of that same country in June.

Best wishes.

JayJay
---
JayJay
******
'09 R1200 RT
'73 R75/5 Toaster (gone)
'07 Honda Rebel (gone)
Kids (gone - graduated and employed!)
'81 Honda Gold Wing (gone)
'75 Honda CB500 Twin DOHC (gone)
'77 Honda CB750 (gone)
Bride (going strong)
BMWMOA 159659
IBA 63871

To view links or images in signatures your post count must be 10 or greater. You currently have 0 posts.

Senior Member
Join Date: Sep 2003
Location: Tucson, AZ, USA
Posts: 466
Re: 6 states in 5 days
---
Thanks for the report. I am an ex Minnesotan, and when I go back now I usually just ride into the cities and visit with family with little time to get to the lakes. Sounds like a good time and great pictures. Love the pelican.

Dale
---
"The shortest distance between two points is often unbearable."
— Charles Bukowski
Re: 6 states in 5 days
---
Thanks for sharing your trip, looks and sounds like you had great time. You also hit a couple of states that I still need to mark off my map, ND & SD.
---
Dennis Franks
Illinois

2012 R1200RT
2005 K1200LT traded-in
BMW-MOA 156125

IBA Saddlesore 1000


To view links or images in signatures your post count must be 10 or greater. You currently have 0 posts.

To view links or images in signatures your post count must be 10 or greater. You currently have 0 posts.

Re: 6 states in 5 days
---
Nice report & Pic's Spice, I spent all of my summers in the 50s & 60s at my grandparents cottage just up the road on Lake Melissa. I rode through there on Labor day 2008.
---
Dave Selvig
2004 Black LT
2000 Canon Red LT



To view links or images in signatures your post count must be 10 or greater. You currently have 0 posts.

Senior Member
Join Date: Apr 2002
Posts: 14,438
Re: 6 states in 5 days
---
Great ride and trip report, Tom. Sequencing with pics was especially enjoyable. Glad for you that the number of states ridden thru increased! Thanks for sharing, Tom.
Senior Member
Join Date: Mar 2011
Location: Chicago, IL, USA
Posts: 1,206
Re: 6 states in 5 days
---
Nice ride Nice pictures
Were you ever a school teacher? Composition was A+
So the whole trip memories an all must have been A++
ride safe
Re: 6 states in 5 days
---
Another reason I love this board. I love these ride reports. Great job!
---
BMW 1200 LTC 2002


To view links or images in signatures your post count must be 10 or greater. You currently have 0 posts.


Illinois...The Only State Where The Governors Make The License Plates
Senior Member
Join Date: Mar 2012
Location: Laval, QC, Canada
Posts: 1,438
Re: 6 states in 5 days
---
Looks like an amazing ride.
One day I'll do a multiple day ride but without the camping part. Personally, I prefer a real bed
---
Daniel
If you can park it, and not turn around to admire it before walking away, you bought the wrong one.
IBA # 56396, MOA # 171966
2019 R1250RT. 2007 R1200RT (186000 km)
Re: 6 states in 5 days
---
Great trip report with just the right balance of pics and story. Well done Mr Spice.
I've got to remember those two camping aids - Adult beverages & ear plugs
---

To view links or images in signatures your post count must be 10 or greater. You currently have 0 posts.

Airwolf - 2018 K1600GTL (planned acquisition!)
2005 Charcoal LT - 48K
2003 Antracite LT - 76K
2001 R1200C 24K
1999 Honda Magna - 5K (RIP)
Junior Member
Join Date: Mar 2014
Posts: 4
Re: 6 states in 5 days
---
I'd like to go on something similar someday. Looks like you had tons of fun.
Re: 6 states in 5 days
---
Nice trip thanks for posting.
---
Just Go
To view links or images in signatures your post count must be 10 or greater. You currently have 0 posts.

Mike
Cleveland Ohio
2019 K1600b Grand America, Blue Max.
Currently Active Users Viewing This Thread: 1

(0 members and 1 guests)