A flee for sanity run
---
This morning in my dingy Baseler pokey-hole under the roof, woke up in a cold sweat with my usual "OH MY GOD, IT IS NOT A NIGHTMARE I REALLY AM STILL HERE?" scream.
And decided that again, it is time to boogie, some of you may remember that a year or so back I did a few-days-before-christmas run to the med and because of the snow I broke off and took the train back.
Methinks I still need to finish that trip, however this time it's gonna be from the top: Basel- Bern- Mt. Blanc- Grenoble- Marseilles. Then poke around the med coast for a while.
I have convinced my overseer-chick at the RAV that I can do my work-finding duties from a lap-top with WiFi on a campsite.
She seems pretty easy with that plan.
So let me take you on a flight of sanity run to the med..
Watch this space here.
---
Without men civilization would last untill the oil needs changing.
Re: A flee for sanity run
---
Looking forward to the posts with great anticipation.
---
Take care,
Chris

"Peculiar travel suggestions are dancing lessons from God" Kurt Vonnegut

To view links or images in signatures your post count must be 10 or greater. You currently have 0 posts.

To view links or images in signatures your post count must be 10 or greater. You currently have 0 posts.

Re: A flee for sanity run
---
Arrgh I am being eaten alive, Blutige mossies; I blame all them white Carmague nags for all them buggers, I ended up near Marsellies having lost my way three times. Missed the Mt. Blanc, figured the French had pawned ít, but managed to find Grenoble, things went fuzzý down road from there, now at campsite on the way to Herault collecting bug bites, got some nice one to show.
I would not mind, really not, I have oodles of blood to share but why must it ITCH so mutch
Just godda see if this local red wine is a good bug deterrant.
Tomorrow gonna toss a coín and either head east to Genua or south to Spain.
Catch ya a´ll later.
---
Without men civilization would last untill the oil needs changing.
Re: A flee for sanity run
---
Weather report for both sides is ok. Genova temps around 24°C, Spain side temps 26-27°C. Good luck with your trip!
---
Have a nice day!
Paul
---------
'06 BMW K1200LT (2011- ...)
'85 BMW R80GS (1989-2010)
'85 Yamaha XT 600 (1986-1987)
Re: A flee for sanity run
---
At my last visit to the RAV (job center) my RAV overseer asked me if I wanted some holidays, after 60 days on the dole you are entitled to a week's break from your job seeking duties, I declined and suggested that although I would like to get out of Basel for a while I could perhaps do my job finding duties from a campsite with wifi, she seemed quite happy with that and wished me happy trails.
My RAV overseer is quite an amiable elf-like wee lassie, long black hair, five foot nothing, a killer set of pins attached to a va-va-voom bodywork, Switzerland seems to have a policy of stocking public offices with smoking hot chicks. She is nice and friendly, however I do not doubt, even for a second, that if crossed, she would go all Uruk Hai on my ass, she has a French name that for me as a Engländer is genetically impossible to remember, let alone pronounce. So I call her "Mademoiselle Cutesweet, a name that: A. Describes her perfectly. B. if you say it fast, sounds French enough for me.
The cunning but vague plan fermenting in my brain was to finish the trip that I had done a year and a bit back, you know, the one where I shouted "Stupid!" saddled up and rode over the Bernadino a few days short of Christmas. It had the works, landslide, torrential downpour, blocks of ice on the road, a blizzard, gave up, dumped the bike in the railwaystation at Lyon and took the train home?
So as usual I just needed to get money and time in sync. A kind of forced Sync came when my mad landlady knocks on door to complain bitterly about honorable other lodger leaving the landing light on..
Wearing a summer dress and a straw hat with god awful red cotton cherries.
Garish make up and red lipstick applied with a table tennis bat in the middle of an earthquake.
Maybe she was off her meds, defiantly off her rocker, because just the other day she cornered me in a bottleneck between the outer door and my door. She gets this look when she wants to ramble crazy, kinda like headlamps to my deer. Slammer the Balrog, can not pass without running her over, she holds a black scarf thingy, ripped to shreds in my face and tells me that she has gone to the police over the matter and I should not be scared if the Swiss secret service knocks on my door.
"What do you think of this Herr Slammer?" she asks shoving this rag under my nose. "The Turk broke in a cut this to shreds"
I am no expert in fashion so I answer: "Oh! I thought it belonged that way"
"No!" she shouts, quite peevish "it is the Turkish rapist that did this."
(Don't ask)
Then the best question up to date...
"Can you not see it Herr Slammer, are you mad?"
Sod the money, half an hour later Iron pig II was loaded up, fueled and oiled and we blew dodge.
The route plan was to hit Lac Leman, lake Geneva to you, turn left and head for Mt. Blanc, the big lump of pointy rock just over the border in France, then whizz past Grenoble and ride through the creepy and sinister dark gorge to Gap, then try and find Marseilles, flip a coin and either head east to Genua or west to Spain.
So far the plan, well I found Lac Leman, hard to miss if I may inject here, then we turned east and then things went kinda fuzzy.
I could not find Mt. Blanc, not even a hint that it may be anywhere near. I reckoned that maybe the French had pawned it.
pix on the way up over the haze, the air was cooler, fresher and smelled deliciously of pine forest.
No! Not Mt. Blanc
Not here too.
Oh yes! There it is, found it..! That is one MoFo paperweight.
Anybody who has ridden on a French motorway will agree that they are expensive, arrow straight and boring connections between two points of civilization and that they are not overly stocked with petrol-stations, and that the only time you can have enough petrol onboard a BMW is when the damn thing is on fire, you then get a recipe for a nail-biting ride, especially since the clunky old LT drinks like Dumbo. Iron pig II's gauge was well into the red and I was riding at 30 Clicks on the hard shoulder and still had 20 K's to go for the next exit.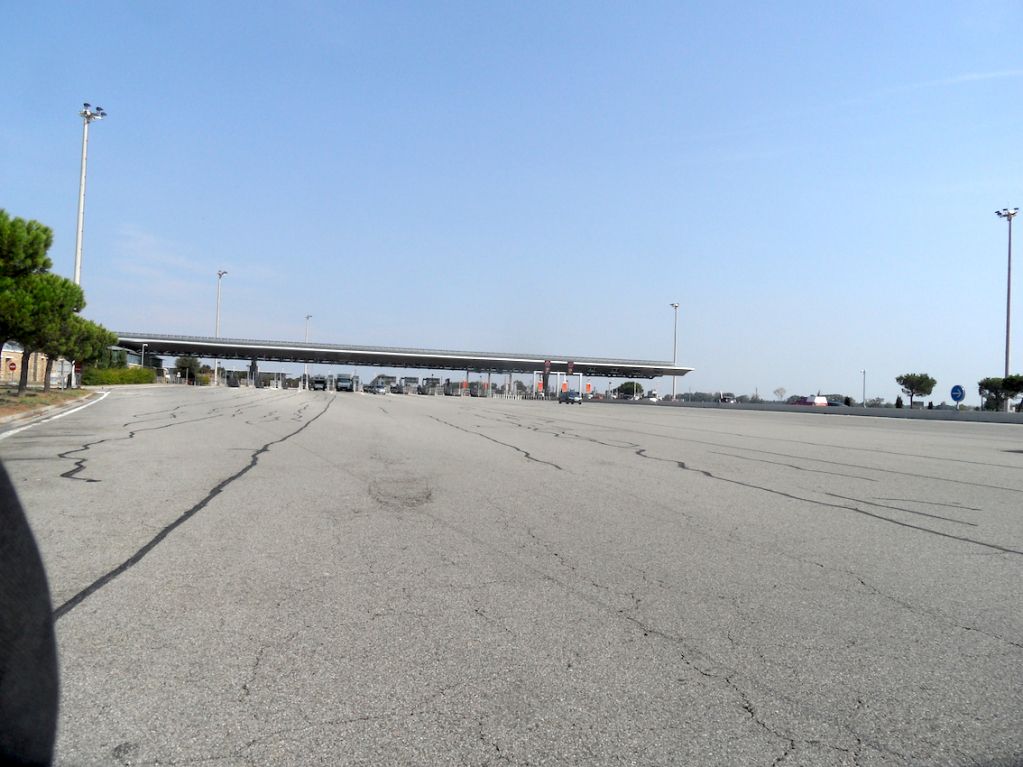 There you go, a bit of French culture, a motorway toll station.
Once you get to this point It's just one of these things, if she stops, she stops but to my amazement the fires kept burning until the next exit. I quickly found a petrol station where I Filled the tin tank and emptied the meat tank. Then I decided to grab a hotel and drink wine until I felt better, to me that sounded like a good plan. Inside the foyer and hotel bar, a bus load of Brits totally pissed out of their gourds and who I imagined belonged to the bus with: "The London Philharmonic orchestra" emblazoned on the side, "good luck with the concert tomorrow" I thought.
I had always imagined Grenoble to be one of these serene and picturesque sub-alpine towns, kinda like you see on the post cards with snowy mountains in the backdrop and a flowery border with "Bienvenue à Grenoble" in a golden fancy font. Sad to say it was just another dusty and grimy, grey French town where you don't want to be found hanging dead over the fence.
But maybe I was just seeing it from the side that got the good personality.
I rode on looking for the gorge where December 2010 Slammer riding Iron Pig I almost got whacked by a landslide, but that turned out to be more difficult that I imagined, so I missed the gorge altogether but found the high road that winds it's way down to Sisteron.
The lost gorge. Ah well there is always another christmas.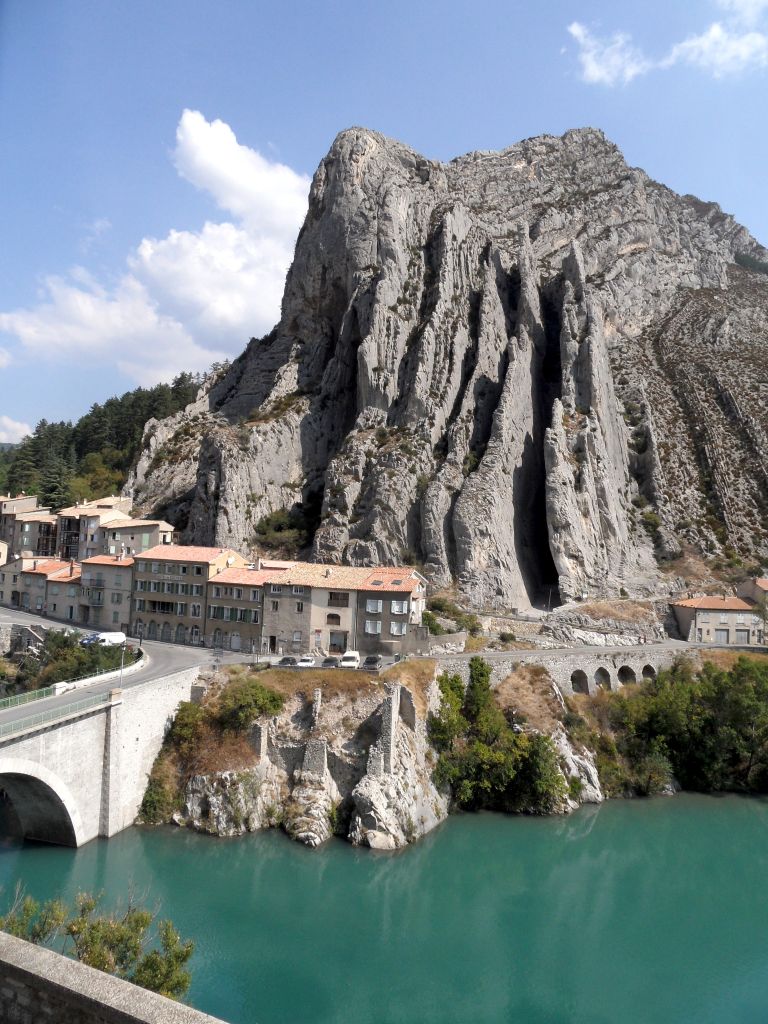 Sisteron, well worth a visit, Napoleon stayed here on the way back from Elba on his way to Gap, the town, not the store.
After Sisteron I rejoined the Motorway and set a corse for the west of Marseilles and the Camargue leaving the motorway at Arles.
The further south I rode the hotter it got, I no longer had the sweet, sappy smell of pine in my helmet, but something dustier and Euclaliptusier, a more Mediterranean taste.
To say that the Camargue is flat is an understatement, here you really can see on Saturday who is gonna visit on Sunday. The narrow road to the coast criss crosses the national park and winds it's way between swamps full of stagnant pools of shimmering water that eventually give way to the salt marshes and salines. As you may know the Camargue is horse country. The hot air was filled with the somewhat ripe pong of sweaty horse and it made me feel wanting for a good retch now and then. I am pretty much neutral on the subject of horses and I like them, but mainly in the Swiss fashion, with chips, salad and a spicy BBQ sauce, these pure white horses however looked quite picturesque as they stood in large herds among the shrub and sand, so I decided no horse steak for tonight's barbie.
The famous white Carmague nags, delicious, imagine served with greens and a apple in it's mouth.
It was a surreal ride along the winding road, the horizon vanished into the heat and the sun burned with a white hot incandescence that totally obliterated any blue the sky may have had, I could not see further than a hundred meters or so, beyond that and the heat shimmer simply blurred everything out, occasionally a car or a bike or a horse would bloop out of the haze as if materializing out of nowhere.
The road roughly followed the Petit Rhône to Saintes-Maries-de-la-Mer where I hoped to find a campsite.
I did and spent a relaxing two days on the campsite, battling mosquitos and drinking French beer out of frosted glasses then dipping in the sea, repeating the procedure until knackerd.
Come evening and the cold beer had given way to red wine in the campsites open beach bar style boozer, it was the time of the bats, I love bats, I love the way they fly, just out of sight and in the corner of your eye, swoosh and flit and the bat is gone, a whole squadron of bats had herded a cloud of mosquitos into a Döner like shape and were now diving into the cloud for their dinner. This had not gone unnoticed by the local dragonflies, insects with wingspans as wide as my hand is long. They totally outclassed the bats, swooping dashing and generally flying rings around them, along with other patrons of the bar I watched in amazement as the dragonflies and the bats got into a dogfight, Immelman maneuvers, Bell tail slide, Split S, Thatch weave, Yo-Yo's both high and low, rolling scissors, the lot, heck I had to look this stuff up.
All that was missing was (and I heard it in my mind) the sound of Merlins and "TAKKATAKKATAKKATAKKA"
After about an hour the ariel combat came to and end when the Dragonflies ran out of fuel and returned to base, I swear that just before disappearing into the night one of them did a victory roll.
I had decided to head to Spain, besides I fancied Paella, so after leaving the campsite I rejoined the motorway, at least for a while until after Narbonne, still a bit vague on where I wanted to end up. I have a GPS and if I ever remember to recharge the battery it should work, but one thing that a GPS can not give me is the sheer joy and Zen-like feeling of satisfaction when you pour over map made from paper, along with a plastic cup of motorway automat coffee in your hand. Reading the names of towns lining the coast, one of them stood out and called to me: "Roses" Sweet in any other name. Roses was as far as I was gonna go.
Exit 42 came, I left the motorway and headed for the coastal road and a border crossing into Spain at Portbou.
This was a road in the classical European style seen in French spy thrillers of the sixties, if life was fair I would be driving a open top Jaguar E-Type and wearing sunglasses, I would be letting the hair on my chest toupee flow freely in the wind courtesy of my open to the navel plaid shirt and to make it perfect, I would have a smoking hot chick draped over my shoulders, gasping at my manliness.
But, life's a bitch and I make do with riding a pig made of iron.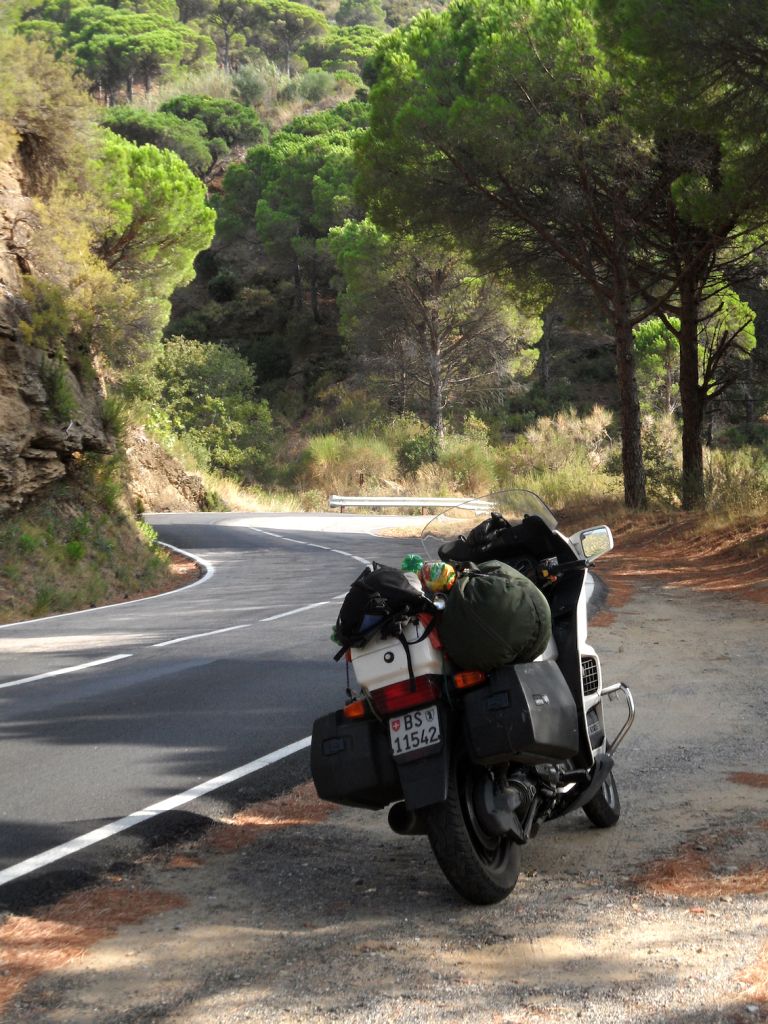 I can still feel the heat in this picture.
The French/Spanish border at Portbou, scene of fierce fighting during the Spanish civil war.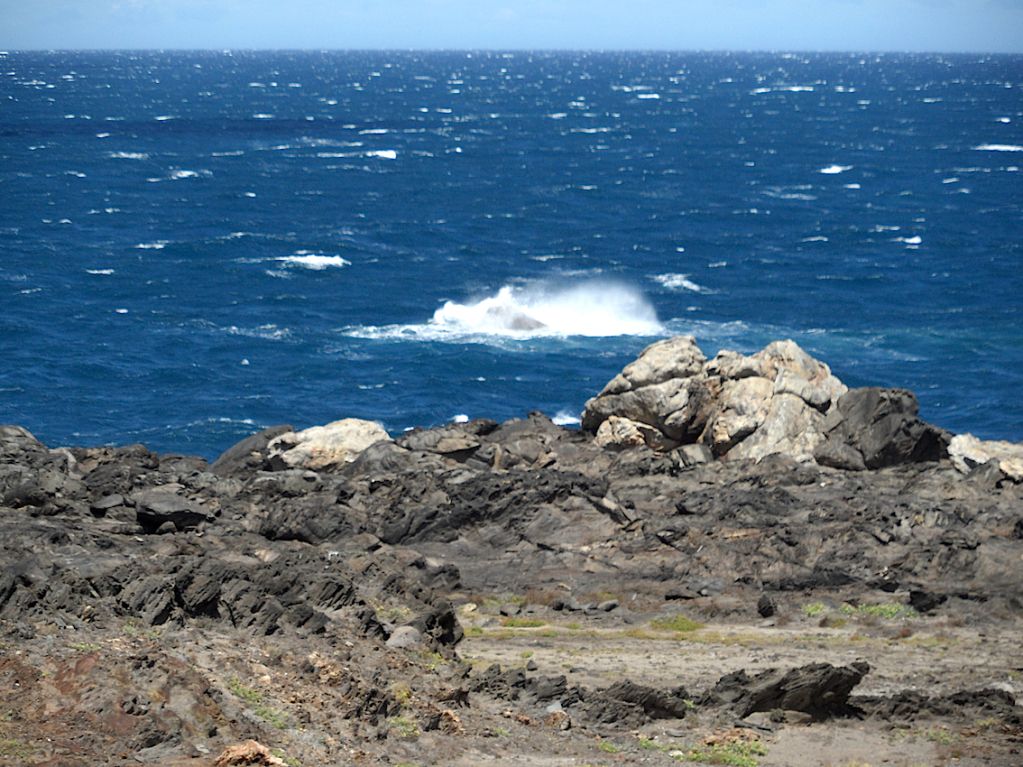 Blue sky over a blue sea with blinding white waves breaking over hard Rock, this is what I wanted to see.
In Roses I quickly found a campsite for 20€ a night.
ONE night, just one frikkin night of peace, that was all I got, the next day I had spent the morning on the beach, doing my "dirty old man letch" amongst hundreds of sleek bronzed Spanish chicks, who were lounging in the sand and soaking up the rays, topless and sunny side up.
One of the very nearby chicks spoke with a most sexy and husky Gianna Nannini voice and it was driving me crazy. It was getting time for a ride out, but first, a cold shower.
From along the coast a wall of black cloud was rapidly approaching and I decided to head back, hey too late. It deluged and in seconds the road turned into a river, the drains quickly filled to bursting and water shot out with enough force to lift manhole covers.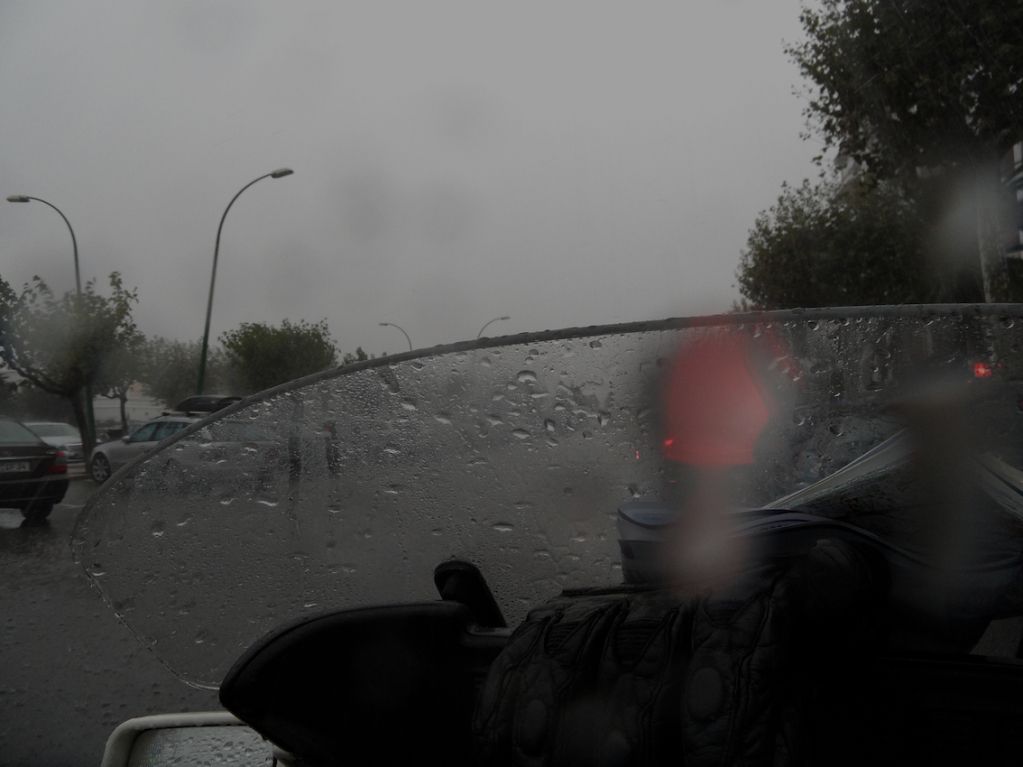 Wet, very, very, very wet water with watered down watery rain.
I puttered back to camp and to my dismay if found that I had pitched my tent in a depression in the ground. Everything was under 30 cm of water, luckily the air bed doubled as a life raft and had saved all my equipment from a watery grave.
I abandoned tent and spent the rest of the night in a cabin, at around something O'clock in the night the rain stopped and high winds came from the mountains, very high winds.
In the morning I went back to the tent only to find that somebody had tied it like a horse to a lamppost.
It is one of these geodesic tents with four springy aluminum supporting rods.
"Where did you stay last night?" a british pensioner-static-caravanner asked.
"I spent the night in a cabin."
"Well your tent broke loose and went a galloping down the road, we had ourselves a little rodeo!"
You could clearly see that the incident had been a highlight of his vacation.
Cadaques, Cap de Creus, the famous camel where maestro Salvador Dali went for inspiration, can you sees the camel?
This is where boots go to die
After two days of high winds and getting sandblasted on the beach I had had enough, besides it was time to get back to Basel.
I joined the motorway in Figueres and headed north.
A wildfire must have burned here quite recently. The air in my helmet tasted acrid from cold smoke and ash, to the left and right of the motorway the mountainous landscape was blackened and burnt. Gnarled and leafless Olive trees had turned to carbon and pointed like so many clawed hands among black rock and black earth, I took no photos, so I will leave it to your imagination to paint the picture. A brilliant cloudless deep Cerulean blue sky over earth, black as far as the eye could see, dissected only by the grey strip of motorway, every now and then soot and ash would be whipped into tendrils by the high wind, blurring my view. I was riding through a landscape of the apocalypse.
It was a sharp fast and sobering run back to Switzerland and by Sunday afternoon I was back in Basel planning my next trip.
---
Without men civilization would last untill the oil needs changing.
Re: A flee for sanity run
---
Sorry I missed the pictures of the sleek bronzed Spanish chicks.

Please post those in high resolution. Thanks.

A grade of A+ on this report is pending review of stated pictures.
---

To view links or images in signatures your post count must be 10 or greater. You currently have 0 posts.

Airwolf - 2018 K1600GTL (planned acquisition!)
2005 Charcoal LT - 48K
2003 Antracite LT - 76K
2001 R1200C 24K
1999 Honda Magna - 5K (RIP)
Re: A flee for sanity run
---
Great trip report, Slammer.
It seems you very often attract bad weather on your trips...
Miss Cutesweet and your battered landlady are becoming real characters
Good luck with the job finding!
---
Have a nice day!
Paul
---------
'06 BMW K1200LT (2011- ...)
'85 BMW R80GS (1989-2010)
'85 Yamaha XT 600 (1986-1987)
Re: A flee for sanity run
---
Quote:
Originally Posted by pagl57
Great trip report, Slammer.
It seems you very often attract bad weather on your trips...
Miss Cutesweet and your battered landlady are becoming real characters
Good luck with the job finding!
LOL, Newsflash Pagl57, they ARE real characters
---
Without men civilization would last untill the oil needs changing.
Currently Active Users Viewing This Thread: 1

(0 members and 1 guests)