Slammerīs Christmas tale
---
A long end of year trip had been on the shelf for some time now, a trip full of beer, Motorbikes, sex and glorious sunshine, I just needed to get money and time and my delusions in sync.
My mindīs eye rambled on, something about a run down to Barcelona, then a ferry across to Morocco, I hear that in one of the markets they make a dessert out of biscuit and jelly and vanilla and yummy spices, they say itīs a trifle bazar.
As usual along come the holidays and I was broke, a law of nature by itself, The heart said "yes" the giro said "no" I could not scratch the money together for a long trip but a three maybe four day junket south of the alps should be doable..
Soo! I am writing notes for this little travel report in one of the official and Lonely Planet recommended ways, a dingy, cold very stark utilitarian hotel room in northern Italy, chugging through a bottle of very rough local wine, I hear that experimental medicinal procedures recommend it as anti-freeze.
We will see if it worked tomorrow when the hangover kicks in, however for the moment it did the trick and got the old red corpuscles jogging through the slush.
Sleety wet, cold Northern Italy, just a few days short of Christmas.
For days I had been following the weather-reports, the synopsis promised four to five days of good weather, so I conjured up a travel plan soo cunning you could shave with it. Come the eighteenth I fired up the beemer and headed south.
I rode past Liechtenstein, Sargans, Chur on a beautiful day under a brilliant steel-blue sky on a bone-dry motorway winding its way past majestic mountain ranges blanketed in deep snow.
What more could one ask for?
It was cold but nothing I could not handle, besides the beemer has heated handlebar grips and as I am such a pussy I did not hesitate to use them.
Although the weather report for the next five days had shown a clear sky except for just a teeny-weeny little local disturbance over northern Italy, it did look a bit rough and maybe it is a bad omen when
www.wunderground.com
shows clouds marked with skull and crossbones.
The road started to climb and as we got to higher altitudes the sky got steadily darker, from under the ominous blue-grey clouds a strong icy slashing wind had started to gust down from the peaks making me feel just a tad uneasy. I was getting chilly too and my feet began to hurt, I flexed my toes and could feel the ice crunching in my frozen boots, it felt as if I was wearing socks made out of cornflakes.
The weather on the St Bernadino had defiantly taken a turn for the worst, billowing snowy gusts blinded me with white and laid tongues of snow over the road that writhed and flicked in the high wind, my normally black jacket was a shade of grey and quite stiff under an inch of snow with icicles starting to form spikes around the windshield.
Somehow it felt so..
..*sniff*
..Manly..
I was the only moving machine on the road, totally alone, night was coming and the drifts were getting deeper and deeper, at this point I could only use the bikes forward momentum and smash my way through.
I had long passed the point for a safe return, the last village was quite some miles behind, no rescue now until I got off this bloody mountain and that was firmly in the hands of the ice-King.
And he was quite brassed off.
The road was only visible by means of bright red stakes thoughtfully rammed into the embankment, I was terrified of falling, my heart pounded away like a faulty diesel engine, but eventually I somehow managed to slither and slide my way to the bright lights of the St. Bernadino tunnel.
At the other end the blizzard had morphed into thick sleety cow-pat sized wet snowflakes, cold and now wet to the bone-marrow I decided it was time to quit.
Another thirty kilometers and we were off the mountain, now for a hotel, pizza, wine, grappa in short "the works".
A nameless lay-by in winter, Italy just a bit north of Milan. Donīt know why I like this picture.
NIghttime in a grey old industrial town north of Milan, this place had seen much better days and now the buildings were crumbling, cobble stones showed up through the potholes in the tarmac the streaming rain made interlocking rings in puddles of water. I stopped at a railway crossing and waited for an ancient suburban train with steamed up windows to disgorge a handful of grumpy passengers.
Two prostitutes, arm in arm under a umbrella stood in front of a briar, they were huddled together for a bit of warmth, thin bodies in thinner clothes. The train rumbled and creaked heavily as it strained to make headway. As I rode on the two girls looked at me through eyes that gave no flicker of emotion.
The next day I decided to be a bit more charitable to the town and rode on with open eyes. However as I hit the motorway I had long decided that the place was a dump and that I did not want to be found hanging dead over a fence anywhere near.
It was a fast run along the motorway, fast but cold upon reaching Genua the sky cleared at last and the temperatures climbed out of the cellar.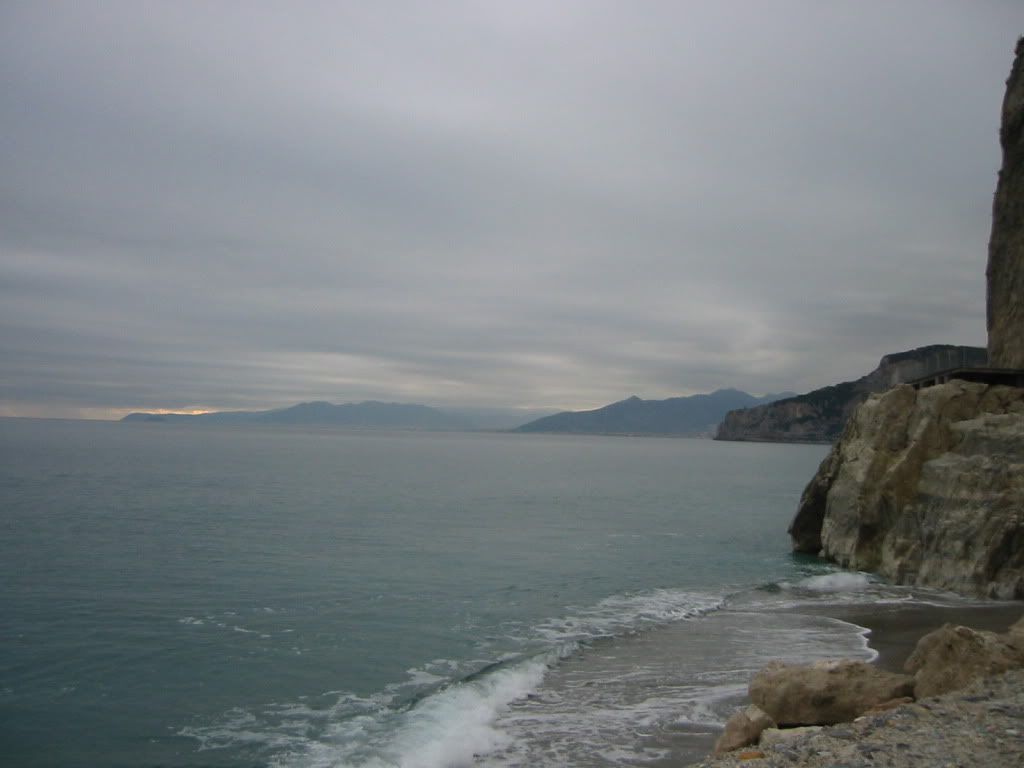 Welcome to the med, it is warm and sunny!
I took a long leisurely winding run along the coastal road from Genua to Marseilles via Monaco spending the night in Imperia, a lovely little marina town on the cote de azure, where in a bout of giggling madness I actually went skinny-dipping in the sea.
Later on I walked through the narrow streets and hit the bars..
The marina in Imperia.
The narrow streets of Imperia, decorated for christmas.
Monaco, a rich manīs playground, after paying 10€ for a cup of coffee and a bread-product, certainly not for the Slammer.
In one a group of people, defiantly the crew from one of the mega yachts in the harbor, the owner taking his crew for a post sun over the yardarm drinkie.
It was interesting to be the mouse on the wall sit back with a beer and just watch and listen to the crew banter, the hierarchy was pretty much set in concrete. Owner, lording over an officer, a two striper I would guess. Soo cute, the engineer talking in a scottish dialect, three, four generic crew members and three woman, one an intelligent looking brunette, her sleek hair wound in a bun in the Japanese fashion with two chopsticks holding it in place, perhaps a female officer, then two of the yacht's deck-fluff, no ship should leave harbor without it, it's in the rule book of the sea somewhere.
The brunette had a brace of killer pins connected to a Va va voom arse, the whole package being extremely pleasing to observe!
Of course she knew!
I was allowing my eyeballs to romp all over her but she smiled at me from under long eye lashes, I smiled back, she in elegant and expensive cloths and me in my biker rags, we both knew that our orbits did not match so she went back to her world and I continued to scowl into my drink.
They say a boats name is the shortest form of Haiku, I wonder what this guy was thinking.
The weather forecast showed bad air coming in from the west, over the Atlantic something nasty was brewing.
I decided to head home and took a short cut to Grenoble with the idea to run up to Geneva and a dash back to Kanton St. Gallen.
Big mistake.
This was the creepy place where the movie "the crimson rivers" had been made. I rode along a road that wound its way next to a fast running river, swollen and angry from the melting alpine snows.
The river had cut its course like a knife, bedding itself in a steep narrow gorge, in some places the crumbly yellowy-orange-brown colored rock had an actual overhang giving everything a feeling of close and brooding, on a summerīs day it would be a fantastic and surreal science-fictiony kind of landscape, just fantastic for a bike ride.
Now in the cold dark and sleet of winter, frankly, it just scared the shit out of me.
I noticed that leftover ice was starting to clog the road and every now and then rocks, worked loose by the action of ice and rain had smashed in the the tarmac, from gravel to chunks as big as a football forcing me to crawl along at a walking pace.
Just as I rounded a bend, even over the roar of the engine I heard the unmistakeable sound of rocks hitting rocks, another landslide was coming down and I was at the pointy bit, I snapped the throttle and the beemer shot forward getting us both to safety.
I had rode enough for one day and started to search for a hotel.
The problem was: Everything had shut for the holiday season.
Three hours into the night and still nothing I started to weigh my options, turn back or carry on, turn back? I knew there would be no hotels until I hit the motorway again. Who knows what may be behind the next corner.
As a third option I considered asking the police for a nice warm cell for the night. The bloody cop-shop was shut too.
Dreaded option number four reared its ugly head, I always take a tent with me on trips like this, cos you just never know..
Wrapped up in everything I had meant that I would not freeze but it would be a very, very uncomfortable night. In the next village I stopped at a open shop for some supplies.
It is said that god smiles on fools and young children, sometime he smiles on Slammer too. Next to the boulangerie a hotel and best of all it was open.
Tadahh!
At breakfast the hotelier has advised me to turn back, the road further up to Grenoble had been closed by numerous rockfalls blocking the path for the snowplows, that meant that I would have to go back to Marseilles and take the motorway to lyon.
Bulldozers were still clearing the road from last nights (rather large) rockfall and I had to wait for over an hour in the freezing rain.
Heading north and still a hundred and fifty Kilometers to go until Lyon the weathergods hit me and this time they they went for the jugular.
It snowed, hard, this time not the pure crystalline white I had encountered on the Bernadino, this snow was churned to filth by hundreds of Lorries, streaked with with the effluence of the salted roads and buffeted by the huge juggernauts I was starting to get the feeling that this trip had been a bad idea, a welded repair on the bikes exhaust had broken again and the beemer started to cough and splutter, I realized we were not going to make it home, this was as far as I would get, I had had enough at last.
Damn just turned 50 and already wimping out at a bit of bad weather.
I dumped the bike in a subterranean garage at the Center Gare de Lyon, got a months ticket for 25 € took the train home just in time for a lonely Christmas-eve.
Picked up the bike after New year and took a detour through Geneva, canīt you hear the soundtrack for that sixties series "the Champions?"
---
Last edited by Slammer; Jan 20th, 2011 at

8:06 am

.
Senior Member
Join Date: Oct 2004
Location: Lake Stevens, WA, USA
Posts: 2,651
Re: Slammerīs Christmas tale
---
Great story and enjoyed reading it, However, I am glad I was not riding with you! Thanks for sharing. Look forward to reading about your next adventure. P.S. You forgot to post the pics of the girl on the boat.....
---
Brian Ley
WA State of mindless sheep
USA where everything is illegal
2007 K1200GT
2010 650GS
2000 k1200LT Sold but not forgotten
BMWOA 119892
Currently Active Users Viewing This Thread: 1

(0 members and 1 guests)