Junior Member
Join Date: Jul 2010
Location: Falcon, CO, USA
Posts: 18
Newbie....found an LT
---
Hello everyone. This is my first post.....after reading the forum for the past couple of weeks. I just decided to join and post a couple of questions.

First of all, I have been an Adventure Rider for the past three years. In other words, I love pushing 500 lb bikes over high mountain passes.

Long story short, my wife loves to be a passenger, but does not like my bike after a couple hundred miles. She hopped on the back of my buddies LT last year and fell in love.....with the bike, not the guy.

Anyway, I love to ride and I love her coming along. Seems the LT is our cup of tea. Anyway, we have been shopping for over a year and we may have found one we are going to pull the trigger on.

It is an old one.....1999 with 45k miles. The bike has been pampered and well cared for. The 12k and 24k services were done by the dealer. The the bike was sold to a career diesel mechanic.....and he did his own 36k service. When I called our local BMW shop, the guy was really nice but told me that the 48k service would probably run me about $1,500.

I have always done all my own maintenance on my bikes over the years. Everything from new sprockets and chains to new clutches to doing my own valve checks and shim adjustments. How hard are the 12k mile service checks on the LT. Upon glancing at the bike......seems it will take a lot of time to remove all the plastic.....maybe more time than actually doing the work. How many of you do your own work?

Also, upon inspecting this LT....which I will do tomorrow. What should I pay close attention too?

Thanks in advance for any help and comments.

John
Re: Newbie....found an LT
---
I think the majority of the folks on this forum do most or all of their maintenance and scheduled services. Not tough, really, but the first one definately takes longer than the second and subsequent services. Removing the tupperware does take time but is easy as long as you keep track of the screw lengths in order to put it back together. There are threads in the HOW(hall of wisdom) that will assist you in the scheduled services. If the service is to include an air and fuel filter change I would allow a full day.

Get a Clymers manual and maybe the Paul Sayegh DVD's and you will be just fine.

Welcome to the forum and to your LT.

Loren
---
WAK1200LT
Loren

To view links or images in signatures your post count must be 10 or greater. You currently have 0 posts.

Cave quid dicis, quando, et cui
Re: Newbie....found an LT
---
Welcome John,
I am new to the LT, but have done all my own wrenching on my RT for years. I live 2 hours from the nearest dealer and I just feel that if I am going to ride a motorcycle, I should know as much as possible about it and be able to service and repair it myself.
As Loren said, most of us do our own wrenching, get a book, look to this forum, and jump in and do that 1st service.
Just aa comment on what you said about your wife sitting on an LT: I have always heard that unless you intend to buy an LT, do not let your wife sit on one
Best wishes
---
Bill
Eastern Virginia (Middle Peninsula)
K3ZXV
05 Honda Sabre 1100
04 Triumph Speedmaster , Black with
California Sidecar Friendship II
99 K1200LT, Basalt Gray "DELILAH" (SOLD)
99 R1100RT ,Glacier Green (SOLD
To view links or images in signatures your post count must be 10 or greater. You currently have 0 posts.
)
Junior Member
Join Date: Jul 2010
Location: Falcon, CO, USA
Posts: 18
Re: Newbie....found an LT
---
Well....the first bike deal fell through......
But I found this one and pulled the trigger.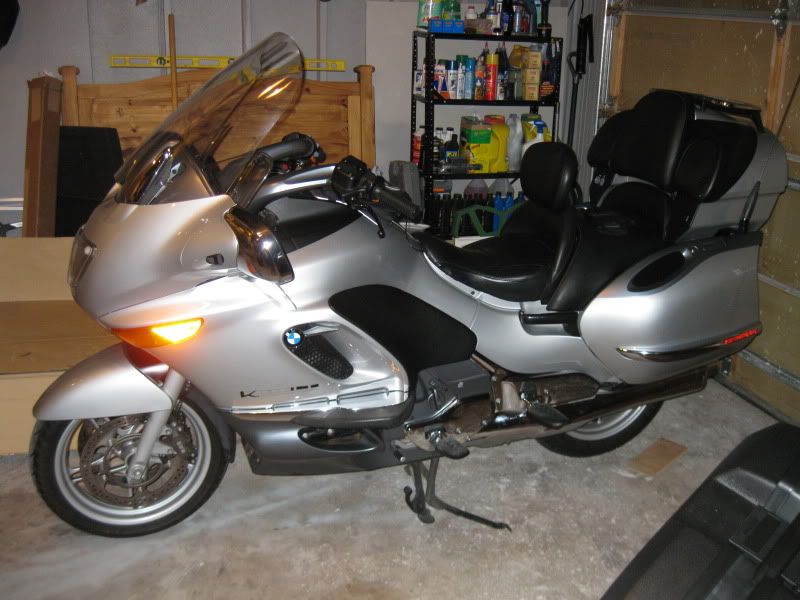 ---
John

2007 Adv Equipped VStrom
1988 Honda NX650
Re: Newbie....found an LT
---
Congrats to ya (or should I say to the SO) and welcome to the forum. Enjoy the ride!
---
Life happens...you control your reaction.

2018 Honda CRF250L Rally (fun in the woods)
2015 R1200 RT (holy cow…what a bike)
2007 K1200 LT (sold)
2005 DR 650 (sold)
2002 Harley Ultra (sold)
1999 Harley Road King (sold)
1996 K1100 LT (sold)
1990 Honda Shadow (sold)
1978-1993 Raising Kids; Paying Mortgages
1975 Honda CB550 (sold but wish I still had)
Homemade Motor Bike (mounted a 3.5 HP Briggs & Stratton on my bicycle at age 12)
Currently Active Users Viewing This Thread: 1

(0 members and 1 guests)