Mounting GPS on the LT
---
I need some advice, I recently purchased a BMW Navigator (streetpilot 3) to use on my 05 LT. Anyone have any thoughts on the best location for mounting the GPS, I'm looking at the factory mount or a shelf above the instrument panel, but I will listen to all options. Also would appreciate any info on patching the GPS sound thru my Autocom Pro Sport 7. Thanks, Marty
---
Marty & Shauna - 2005 "Ocean Blue" BMW K1200LT w/Bushtec Turbo+2
A very nice install, I've never seen a GPS mount in that position. You've given me something new to think about. Thanks for the info.
---
Marty & Shauna - 2005 "Ocean Blue" BMW K1200LT w/Bushtec Turbo+2
Mine is on the clutch res. Clean install with screw on Ram mount. With the 5 inch arm the mirror and BC are always visable. I like this placement because I can read everything easily and can easily use touch screen for changes to map/music etc. GL Ken
And mine
---
Quote:
Originally Posted by ecirwin
I like mine in the factory position.
---
Just pussin' through.
Member
Join Date: Feb 2009
Location: eastliverpool, ohio, usa
Posts: 91
Re: Mounting GPS on the LT
---
Marty, this is Mike Hollis. Just wanted to let you know I made it home safely. After leaving your house, I went towards Savannah. So much bad weather, I decided to get west of the weather front and back tracked thru Atlanta, Birmingham and finally overnighted in Nashville Tennessee. Left Nashville on Wednesday morning only to get jammed up in Lexington Kentucky. Spent 3 hours in Lexington. No one knew that I-64 was the other side of the Blue Grass Pkwy. Finally made it out of Lexington and into Columbus Ohio. Called it for the day there. Left thursday and was home by 1200. Bike rode great. Speed control was really good, better than sonme cars I've driven. Take care.
Re: Mounting GPS on the LT
---
I find that the shelf mounting of the GPS to be easier and safer viewing.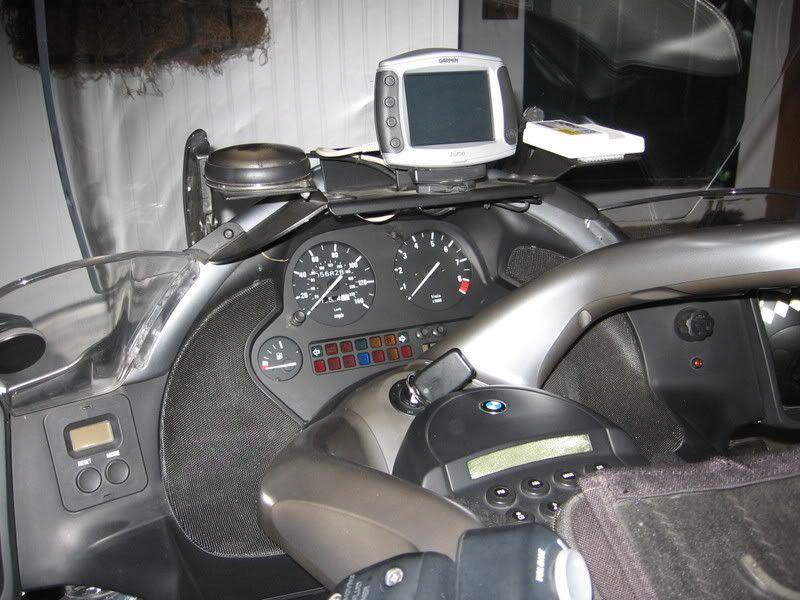 ---
Dave

2003 K1200LTC Titan Silver
BMWBMW, BMWMOA, AMA, IBA
Join Date: Mar 2009
Posts: 19
Re: Mounting GPS on the LT
---
Give Tom Dowell of
www.excelcyclewerkes.com
a call, he has a few options, I use his slick mount on my '05 for my NAV III, works great, and he will make sure you get what you need.
Currently Active Users Viewing This Thread: 1

(0 members and 1 guests)