Happy birthday Norway!
---
Yes today is our birthday or Independence Day
Lots of good food and ice cream and kids with annoying flutes. Wearing traditional clothing "Bunad" or Suits while we wave the good old red white and blue.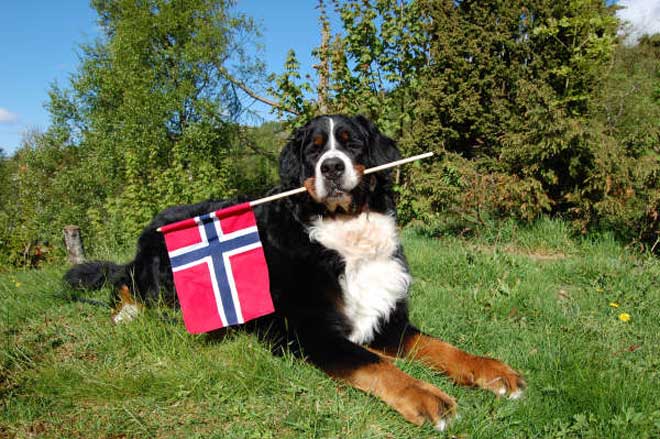 Doggy is of course celebrating also.
Women wearing the "Bunad" in a parade
hmm motorcycle jacket?
Royal family
Parade for the schools with band`s and drill troops
---
2003 K1200LTE Impala Brown
1991 Kawazaki 1000 LTD US 1983 (sold)
1987 Suzuki GSX 1100 1982 (sold)
1985 Suzuki GS 650 LTD 1982 (sold)
1979 3xKawazaki z 100 lt 1979 (sold)
1979 Vespa 50 Scooter 1968 (Given away)

Member of BMW Mottorrad club of Norway
Member Senior MC, Norway
Supporting Member (BMWLT.com)
Senior Member
Join Date: Sep 2007
Location: Logan, Utah, USA
Posts: 110
Re: Happy birthday Norway!
---
It looks like the natives are having a great time. I especially loved the picture of the dog with the flag. However, I think it is a Swiss Mountain dog or a Bernese Mountain dog which are of Swiss origin, am I right? Anyway happy birthday to your nation and congratulations on you beautiful country.
Re: Happy birthday Norway!
---
Thanks for this post. My wife was born in Arendal, Norway and returns there every summer to the family farm. She is going to love these pictures ---- TUK!!!!
Re: Happy birthday Norway!
---
Thanks for the greetings
Yes one long for the roots when one remember the parades and the national pride. And we do celebrate the independance.
---
2003 K1200LTE Impala Brown
1991 Kawazaki 1000 LTD US 1983 (sold)
1987 Suzuki GSX 1100 1982 (sold)
1985 Suzuki GS 650 LTD 1982 (sold)
1979 3xKawazaki z 100 lt 1979 (sold)
1979 Vespa 50 Scooter 1968 (Given away)

Member of BMW Mottorrad club of Norway
Member Senior MC, Norway
Supporting Member (BMWLT.com)
Currently Active Users Viewing This Thread: 1

(0 members and 1 guests)