Senior Member
Join Date: Feb 2012
Location: Moses Lake, Wa, USA
Posts: 148
Got another one !
---
I traded off my 29 Mercedes replica last Friday for another touring bike..
Managed to get a real nice GL1500 with 58K on it. Runs excellent and handles well and a tad more comfy than the LTE but no where near the gas mileage. Took to a local dealer and he feels it should be worth about 7 grand. Once the title gets here I'll put her up for sale and keep the beemer til I wear it out.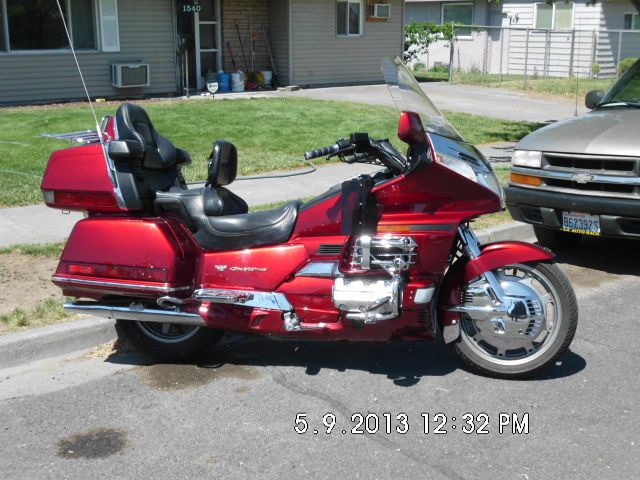 ---
02 K1200LTE (103K)
01 Honda Valkyrie (49K)
1998 Goldwing Aspencade (58K)
65 Chevelle coupe
USAF, E7 retired
(509-760-6382) if you are in the area and need help
Senior Member
Join Date: Jun 2006
Location: mount airy (mayberry), NC,
Posts: 1,155
Re: Got another one !
---
I'm riding a loaner GL1800 of a friend. And yeah, nowhere near the mileage of an LT. But seat is sooo much more comfy than the LT. BUT My bud has made me a heck of an offer on the GL. The wife says one bike. LT or Wing. And I honestly can't decide. The LT is so nice and everything, but the GL has a dealer in every mud puddle. And that seat. Windshield is crap on the GL and the adjuster idea they use is just primitive. No CD player, no heat. Cruise better on the LT. GL pulls like a locomotive. Which is good and bad - got to be real easy on clutch, it's not as smooth as LT.

But enjoy your GL and LT. Best of both worlds.

Randy
Currently Active Users Viewing This Thread: 1

(0 members and 1 guests)