Bringing my GS home ...
---
Those of you that now me long enough knows that I have been toying with the idea to get a DS bike for a long time. My biggest obstacle was to find a bike that allows me to sit on it with my feet flat on the ground. Might seem like a simple issue especially if taken in account that I am just a nip shorter than 1.8m tall. I think maybe the real issue is that I have seen so many times people fall off their bikes when they stop that it has become a serious mental block for me to ride on any bike if I cannot plant my feet solidly on the ground when parking on a level spot.
So over a long time I looked at numerous bikes and at one stage basically decided to go for a R1200 R and farkle it a bit to be more DS orientated. This was even more of an option after I read an article of a guy that took a R1200R on an epic adventure through the US. Work issues interrupted this decision and then a few months ago my brother bought a new R1200 GS for his son. I looked that bike and got into the saddle and to my surprise my feet was solid on the ground. At closer inspection I found out that the bike was equipped with ESA and with the seat in the low setting and the suspension tuned for one rider and a normal ride the bike was comfortable for me. That was it ... I changed my mind and made it up.
This opened another can of worms ... do I keep my GT or sell it. Keeping it was a real option but in the back of mind I knew that if I kept that GT it would become just a partner for my old Kawa Z1300 and stand under a tarpaulin in the garage forever. This was silly. Problem is that here in South Africa the K1200 GT is most probably one of the most underrated and under estimated bikes in the BMW stable. Why I am not to sure, I have some theories but that is not important now.
I started with some inquiries and obviously contacted the dealers that knows me well. Not a big surprise ... nobody really wanted the GT. Some offers were even ridiculous to say the least. I was getting more and more frustrated as time went by and then one morning, two weeks ago my best friend and saddle partner, Roan, called me.
"There is this dealer that operate on the Wilddog forum ... I have given him the details of your deal and he is willing to take the GT and the Dakar on a GS."
Well I was pleasantly surprised by Hentie's enthusiasm and his efficiency. On Thursday morning the 2nd of July we left Nelspruit to deliver the GT and Dakar to Hochland Motorrad in Bethlehem. As we crossed the Highveld I was glad I was in the car with bikes on a trailer ... it was damn cold.

Me sitting in the GT for the last time ... this bike reintroduced me to biking after
20 years of no riding and I will always have fond memories of it. This bike most probably
extended my life by a good couple of years.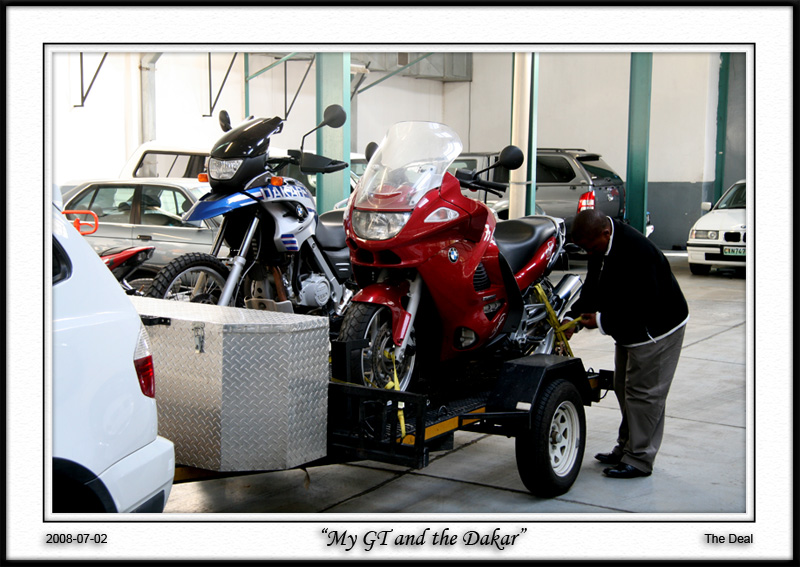 Arriving at Hochland. The Dakar was my son's bike and his arm is recovering slowly
from the accident and it is senseless to keep the bike.
Hentie gathered all the information and within an hour he has secured a new GS for me. Complete with all the extras that the new facelift models could get from the factory. The next week was spent with work related issues. For the first time in long while there was no bikes on my farm and I was getting restless ... Bikelessness I think they call it. To add to my discomfort, nature rolled out the most spectacular warm and windless days in the Lowveld ... I was really not happy. What about the LT you may ask ... well the LT is another story and was standing at Bavaria Motorrad in Pretoria, clutch blown and for no visible reason.
Then on Tuesday Hentie phoned ...
"Your bike is ready ... you can collect it any time you want."
Suddenly things changed for me. I had butterflies in my stomach and could not understand it. I called Roan and we decided to leave early on Wednesday to fetch the bike. Tuesday evening I gathered my gear and did 20 checks to make sure that I have what will be needed. I decided to use my Tourance pants and EVO jacket. That combo has seen me crossing the Karroo with snow on the ground and I was sure I would be fine. Surprise!
My wife was concerned.
"You are not a youngster anymore, I think it is too far for you to go in one day and you are going to freeze."
We stopped for coffee at Milly's and the lawn was covered with frost.
As we cruised across the highveld the onboard computer kept on bitching as the temperature dipped below 4 C frequently. I was excited but also silently worried. I have made my mind up, if it was too cold I would stay over in Bethlehem and tackle the trip back on Thursday. Roan was unaware of this hidden agenda.
We arrived at Bethlehem at 11h30 and Hentie welcomed us with a broad smile. I was anxious to see the bike and we quickly sorted the administrative issues out and filed all the papers in the right places and pockets.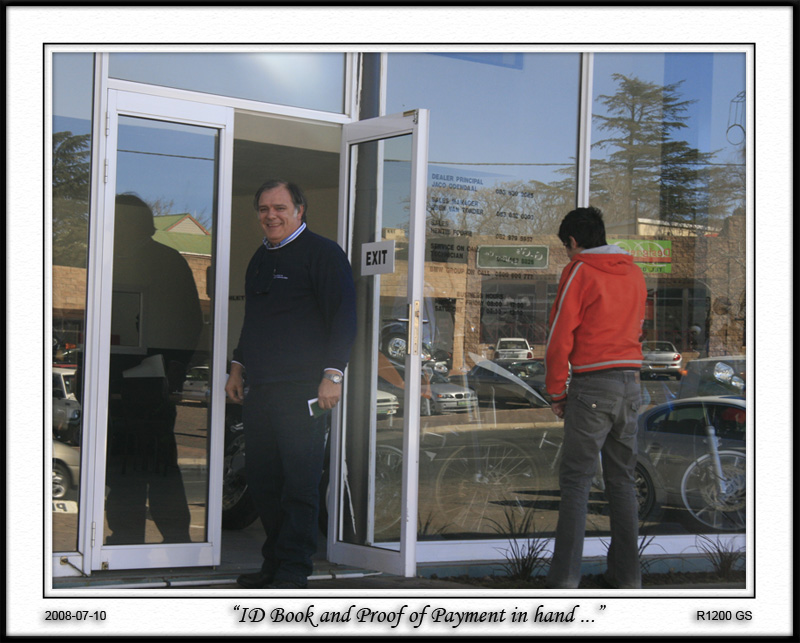 At the door ... ID and Proof of Payment in the hand.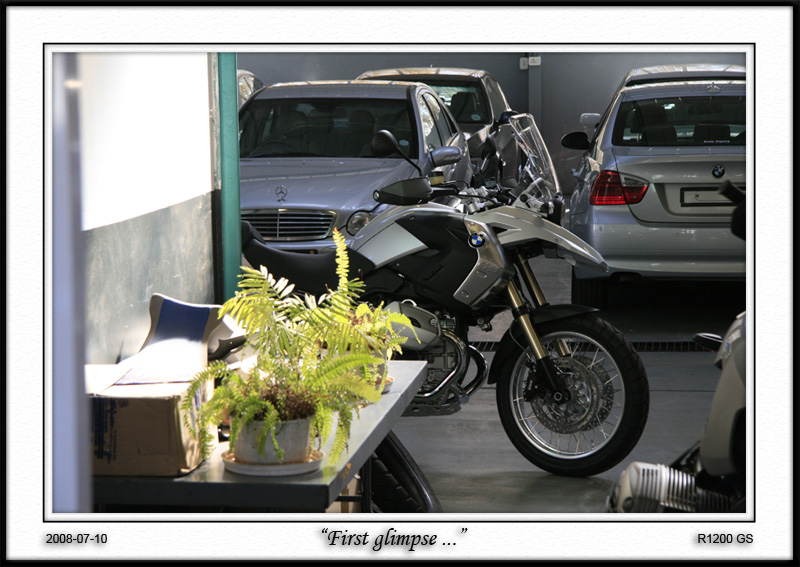 My new GS ...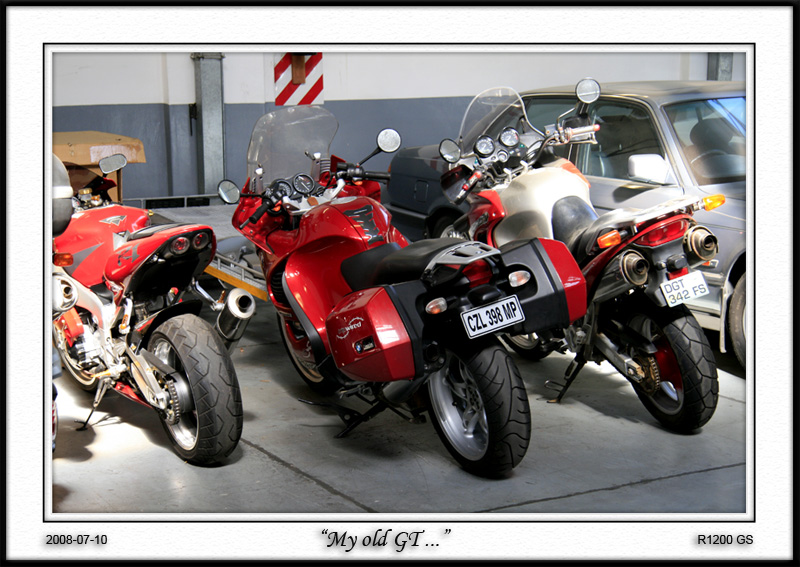 My old GT ...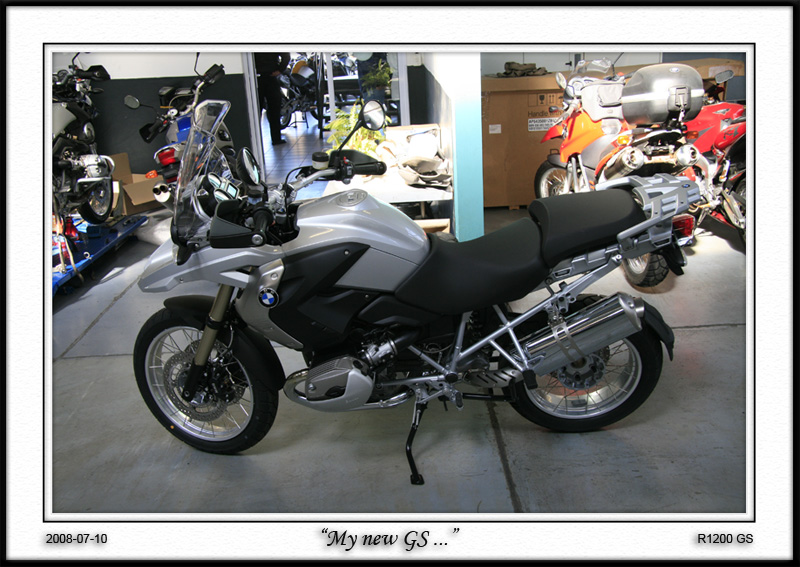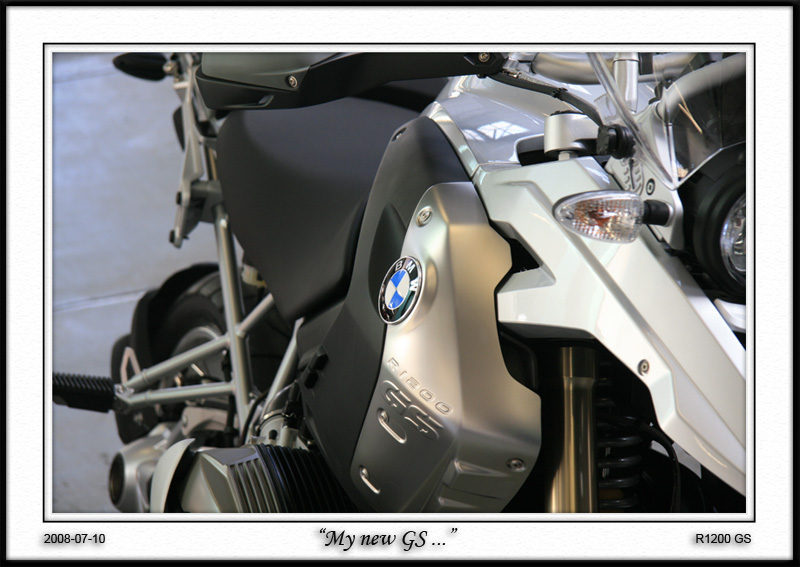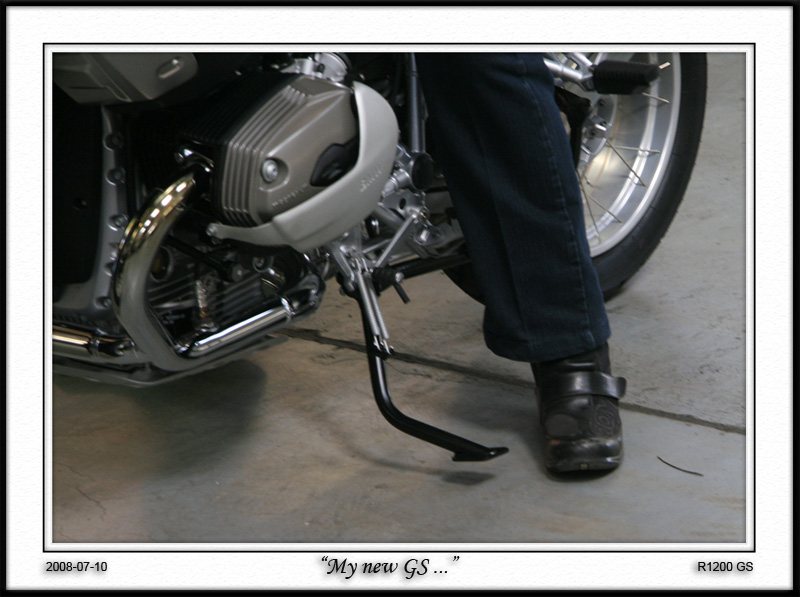 Nice ... flatfoot.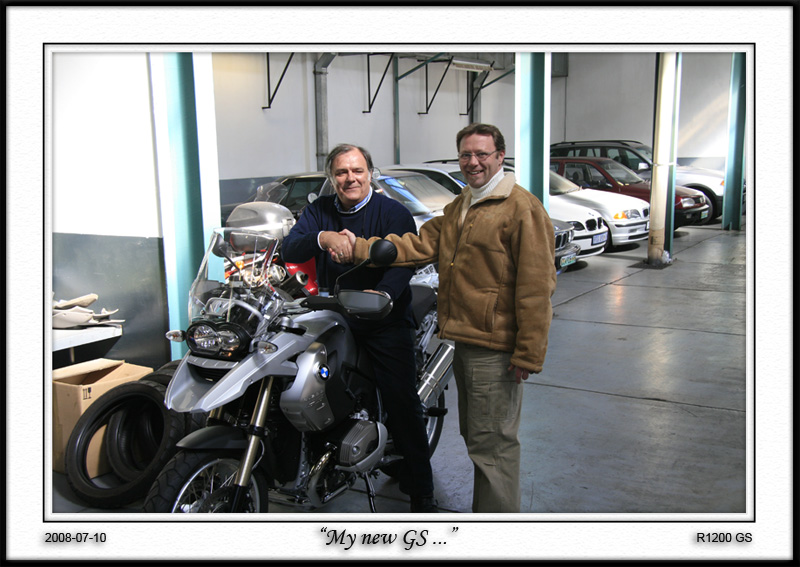 Hentie and me ...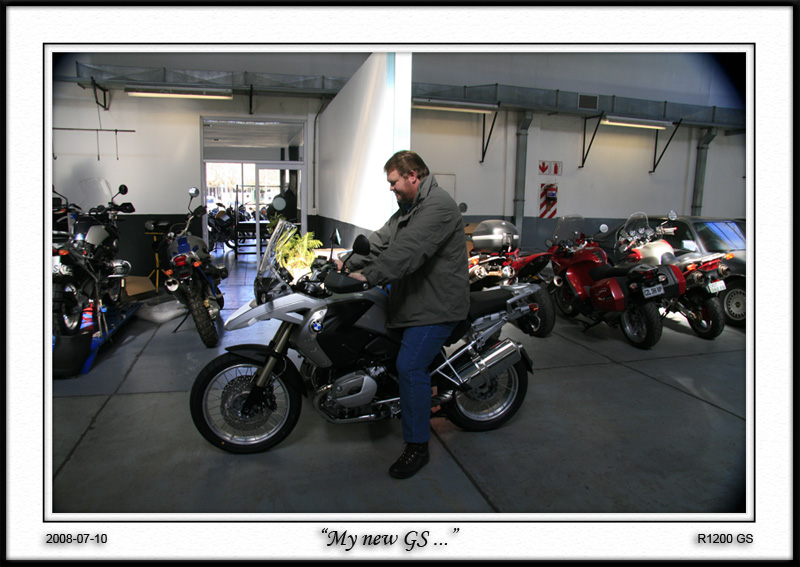 Roan tries it for size ...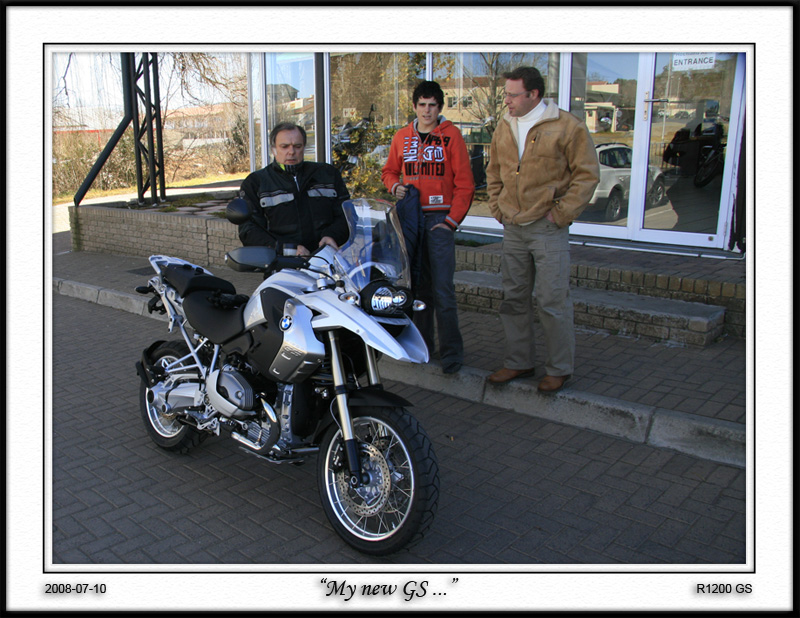 Ready to roll ... all I wanted to do now was to get onto the open road.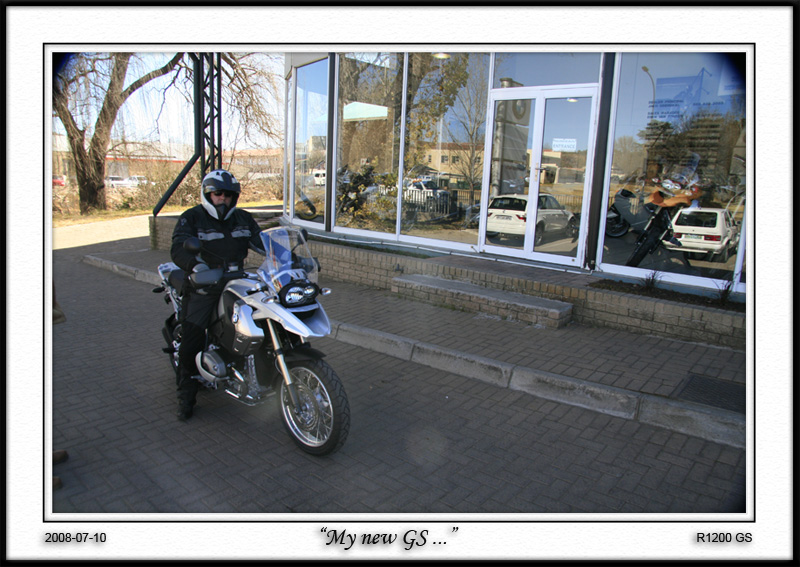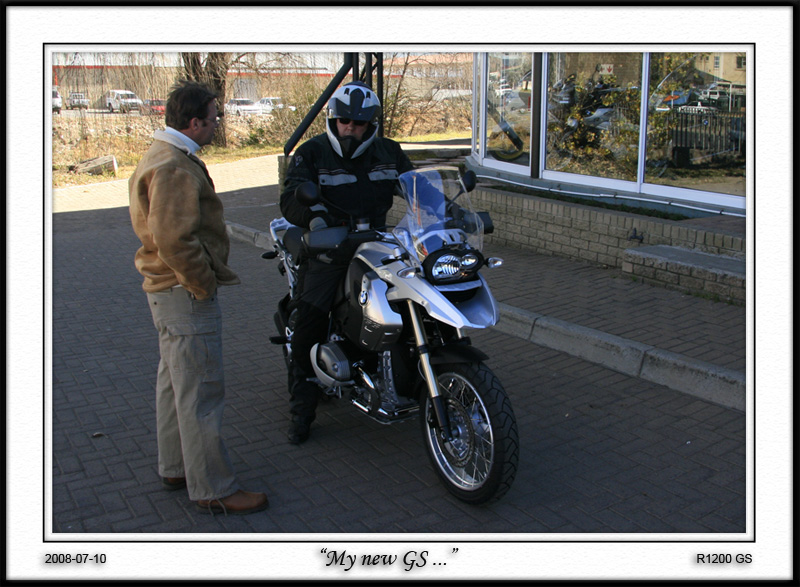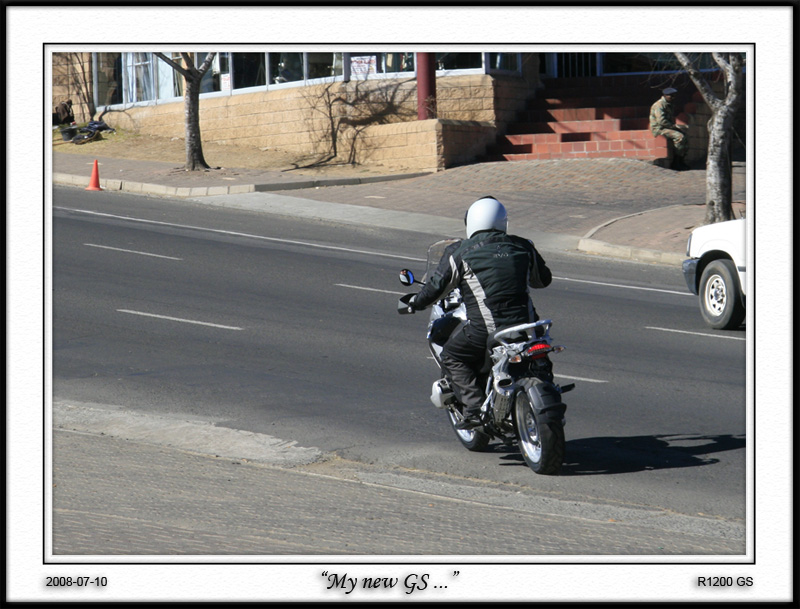 First steps ... and it was great.
Riding into the street was a big moment. The big bike surged forward eagerly as I opened the throttle slowly. I guess the long days in the crate has cramped it's style and now it wanted to feel the breeze through the frame. The junction sped up to meet me and a quick glance at the handlebars confused me ... I could not see the indicator paddles, I knew where they should be but could not see it. Instinctively my thumb twitched and to my relief I noticed the front flicker was working. The next message that flashed through my mind turned into big red letters as I geared down and aligned myself to go left.
"BRAND NEW TYRES ... DODGY TRACTION !!!!"
I rolled back on the throttle and turned the handle bar just so slightly and instead of leaning into the sweeping slipway the bike purred around the bend in typical old toppie on a scooter style. This must have irritated and embarrassed the German Horse big time because my gently, or so I thought, acceleration into the main road out of town resulted a soft growl as the bike lurched forward. The spirit of the machine overwhelmed the sanity of the careful old toppie and took control over everything. Left hand and left foot united into a prizewinning pair at any synchronized dance competition and the right hand refused to be left out in the cold. That silver Beemer took off like a scalded cat and just wanted distance between himself, yes it has morphed, no more IT, now it is HE, ... distance between himself and that embarrassing turn.
Sepho, who else, did what comes naturally and made a Proudly South African take-off from the designated Taxi parking and stormed into the traffic with no respect for any law and zero concerns for other road users. My only salvation was to flee, you know that simple choice when faced with danger, FIGHT or FLIGHT. Well in anycase the demon was still in control and I felt the bike lunge forward, leaning slightly as we swerved away from the Hi Ace. I pulled the bike left and staked my claim of my rightful space in the lane and glanced at the mirror.
"RPM ... RPM ... Geez keep an eye on that revcounter!!!!" The old toppie brain clicked into gear and I banished the bike demon back to it's lair.
"None of this you hooligan ... go sleep there amongst the tonnes of electronic gadgets.!"
With a little grin I felt the demon let go of my senses and I settled down into a comfortable position. This was a nice bike but I cannot say much because I have known him for less than 5 minutes.
I shook my head a few times and focused on the road. The big twin had loads of torque and I made a mental note to keep that in mind all the time.
Pretty soon I was out of town and the road opened up and disappeared over the horizon, a horizon that was far off in the future because this is flatland. As the kilometers flicked by I got more relaxed and looked around at what was actually going on in the control section of the bike. Funny that the flicker paddles are invisible but yet they are there whenever your thumb reach for either one.
It is definitely not the same ride as my GT or LT but it is a great ride. The suspension just soaks up the rough patches and not once did I regret it that I have forgotten my kidney belt. The computer gives you a lot of information and I especially love the Tyre Pressure Control.
It was pretty cold on that road and although it was middle of the day the temperature stayed in the low teens. On the LT or the GT my Tourance pants was all I wore but on the GS I will have to add thermal underwear. I am obviously not used to riding a bike with so little wind protection.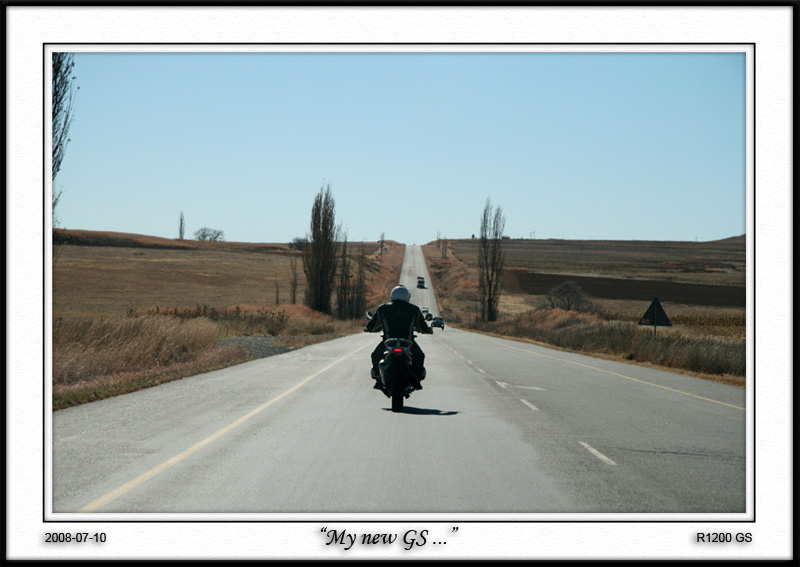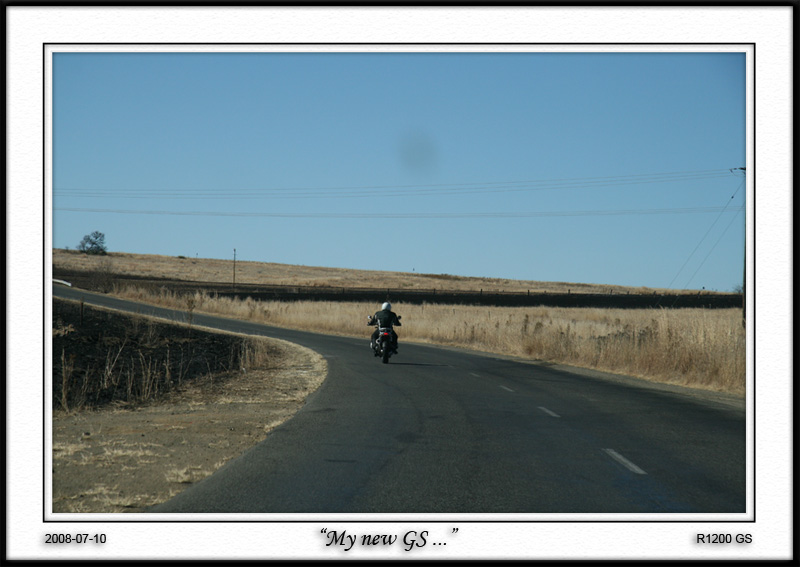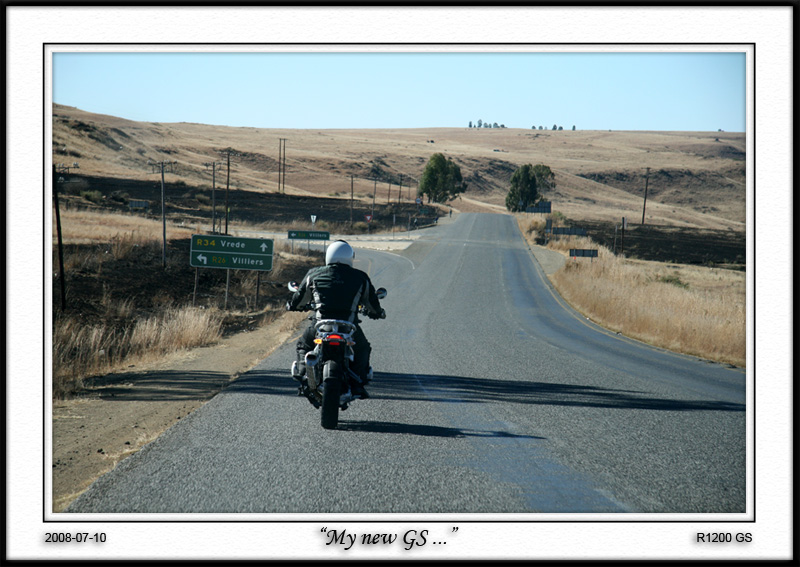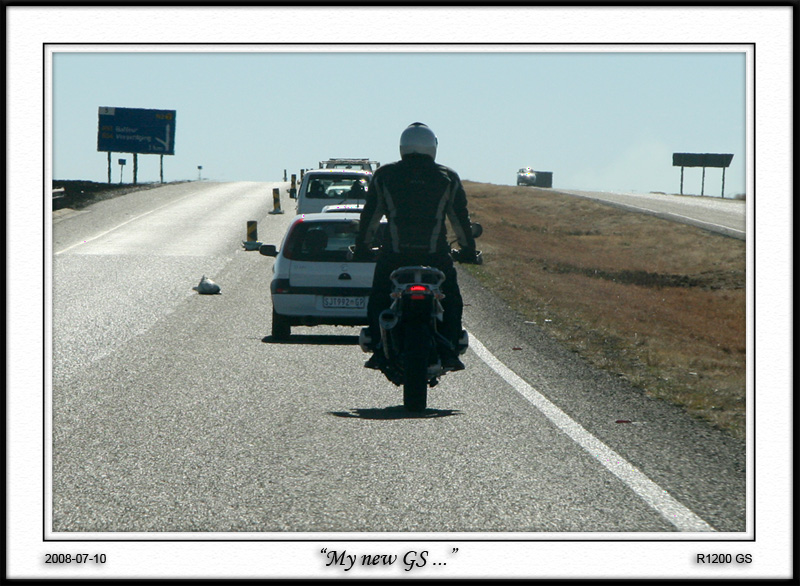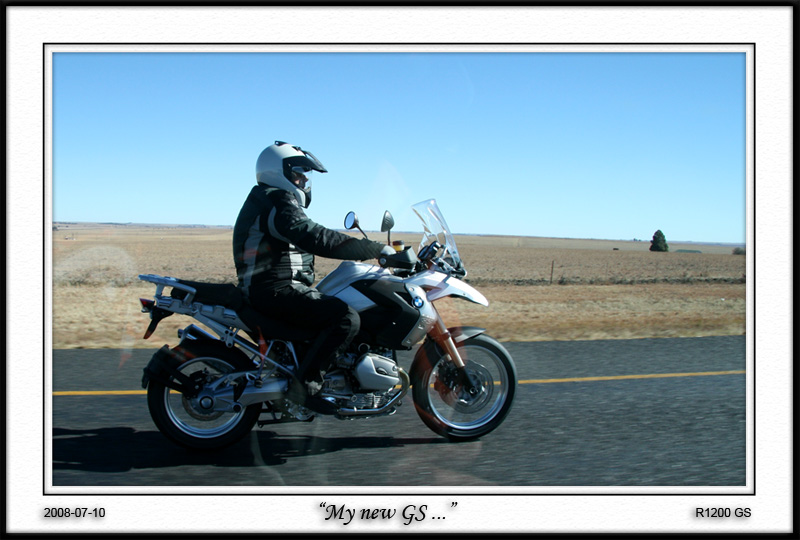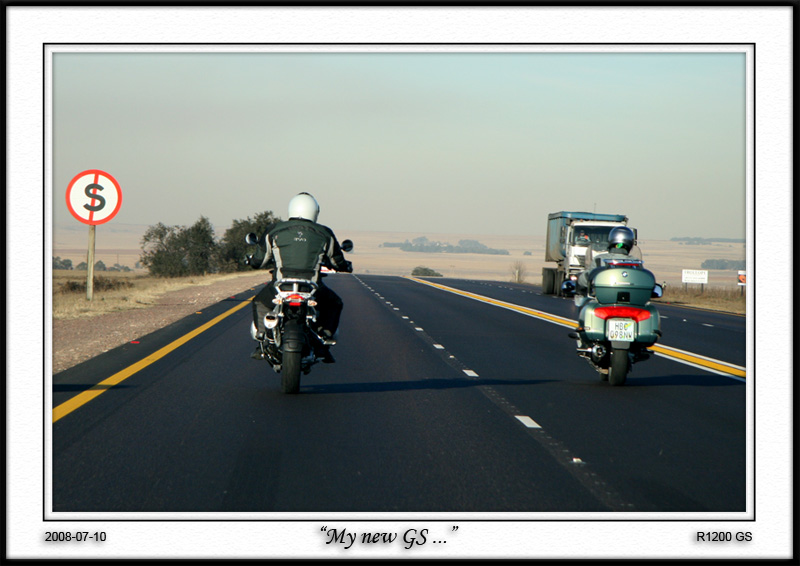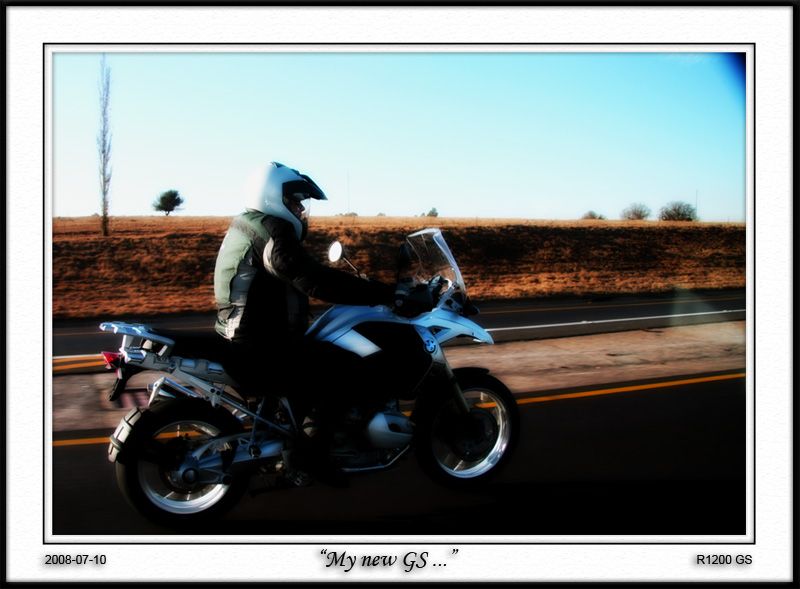 I stopped at Heidelberg for fuel and the the next stop was at Milly's. Average fuel consumption was 5.4 l/100km and I am actually impressed. From Milly's it was short run before I descended into the Shoemanskloof. The temperature was rising and although it was getting dark now it was 18 degrees C. At 18h30 I was back home. 540 kms in 6 hours. The biggest and best for me was the moment when I went off the tar and onto my farm road. Now with the GT and especially the LT this is one kilometer of nerve wrecking tension. The GS just purred on and took that gravel track as if it was tar.
Thank you all for reading and hopefully soon I can post a real ride report.
---
A bad day on the bike beats a good day in the office.
Re: Bringing my GS home ...
---
Oh, that's nice
---
2006 Magnesium Black Metallic K1200LT
Proud Member of the Patriot Guard Riders
Ken

To view links or images in signatures your post count must be 10 or greater. You currently have 0 posts.



To view links or images in signatures your post count must be 10 or greater. You currently have 0 posts.

Re: Bringing my GS home ...
---
Wow! Those are THE BEST pictures! Thanks for the write-up and awesome pix.
---
"BONES" <///><
To view links or images in signatures your post count must be 10 or greater. You currently have 0 posts.
2018 R1200RT
2002 K1200LTC--- Belle


"My wife and I have an understanding. I won't try to run her life and I won't try to run mine."

Senior Member
Join Date: Apr 2002
Posts: 14,438
Re: Bringing my GS home ...
---
Once again, Colyn - you've hit a bases-loaded home run; both with the new ride, AND the post. I thoroughly enjoyed the write-up, and the pics are superb, as usual. Looking forward to your report of GS-bonding, so to speak. Ride safe, Colyn.

BTW - your son is at least progressing with the arm injury? Slow it may be, butt full recovery will hopefully be the end result.
Re: Bringing my GS home ...
---
Congratulations !! Nice Bike !!
Re: Bringing my GS home ...
---
OMG... you are riding on the wrong side of the road!!!
Congrats on the new GS!!!
---
Gilles & Kathy
BMWMOA# 154719
IBA# 71594
2011 Ostra Gray RT

06 Mercedes-Benz E350 Estate (parts and people hauler)
2012 BMW X3 (parts and people hauler)
86 Porsche 911 Cabriolet (my "new" baby)
For her I climbed the highest mountain!
For her I swam across the deepest ocean!
For her I walked through the largest desert!
And then she left me... She said I was never home!!!
To view links or images in signatures your post count must be 10 or greater. You currently have 0 posts.
Re: Bringing my GS home ...
---
Thanks for the comments guys ... this bike is a nice bike ... completely different to what I have expected
---
A bad day on the bike beats a good day in the office.
Re: Bringing my GS home ...
---
Glad you like it.. Great pics & write-up.
I'm not sure right now, if I had the time to go to Alaska, if I would take a GS or the LT.. The LT would get me there in more comfort, but the GS would be so much more fun once I got there..
---
08 R1200GSA
04 K12LT (Sold)
97 R1100GS (Sold)
SS1000--IB # 32778
To view links or images in signatures your post count must be 10 or greater. You currently have 0 posts.



To view links or images in signatures your post count must be 10 or greater. You currently have 0 posts.

THE Democracy Doctor
Join Date: Feb 2006
Location: We LOVE illegals and Socialists, Sunny, Southern Kommyfornia,
Posts: 5,694
Re: Bringing my GS home ...
---
Outstanding write-up and pics, Colyn. WOW!
---
"Those who would give up essential liberty to purchase a little temporary safety, deserve neither liberty nor safety." (Some really OLD friggin' White dude who couldn't have possibly known what he was talking about!) WARNING: Official HATE speech!
To view links or images in signatures your post count must be 10 or greater. You currently have 0 posts.

Join Date: Mar 2009
Posts: 4
Re: Bringing my GS home ...
---
beautiful bike, and excellent documentation of your journey! Have a great time with it.
Re: Bringing my GS home ...
---
What a great read! Thanks and congratulations, Colyn.
---
Life happens...you control your reaction.

2017 KTM 350 EXC-F (single track monster)
2018 Honda CRF250L Rally (fun on the fire roads)
2015 R1200 RT (holy cow…what a bike)
2007 K1200 LT (sold)
2005 DR 650 (sold)
2002 Harley Ultra (sold)
1999 Harley Road King (sold)
1996 K1100 LT (sold)
1990 Honda Shadow (sold)
1978-1993 Raising Kids; Paying Mortgages
1975 Honda CB550 (sold but wish I still had)
Homemade Motor Bike (mounted a 3.5 HP Briggs & Stratton on my bicycle at age 12)
Currently Active Users Viewing This Thread: 1

(0 members and 1 guests)