In search of Route 66
---
I've been away from the board for a while. I'm sorry.
It's still chilly here in the mornings (36 this morning), but I'm back to commuting on the LT. It gets twice as many miles per overpriced gallon of dead dinosaur than my car does.
Nevertheless, I thought I'd swing by and share a few pictures from a recent trip.
I hang out on a couple of other boards, and on one, a goofy friend is always asking if he's seen other members at various locations around town. Bear in mind that NONE of the other members live in the same town. While this nonsense was going in, I tripped over a picture of the Mini Mart in Seligman, Arizona, and asked if it was him I had seen there, looking for Chinese dumplings.
Mrs. Juggler and I went to Vegas for a couple of days for a wedding. It's become my custom when in Vegas (or Reno) to rent a motorcycle and get out of town. "Dream Car Rentals'" main web page says they rent motorcycles including Hondas! BMWs! Harley-Davidsons!!! But when you get to the page for the Las Vegas location, the BMWs! are missing. Darn. I was going to rent an R-bike. Darn. I wasn't interested in a GL1800 (I sold mine to buy the LT). The only other Honda they had was a Shadow 750 with no windshield. So, a Harley it is.
I've been west and north out of Vegas, to Red Rock Canyon, Mt. Charleston, and so forth. I thought I'd try the other direction...
I started looking at Route 66. Arizona has redesignated the surviving Mother Road as State Route 66. It turns out Seligman is on the Mother Road. Hmmmmm... sounds like an all-day ride.
I was supposed to pick up the bike at 8:00 AM. The young woman at the rental place got in late and looked severely hung-over. I finally got out of there at 9:00 with a 24-hour rental. She did tell me the best way to get to Hoover Dam.
I didn't do the Visitor Center thing. I refused to pay $7 to park for five minutes, so I went farther up to one of the free lots. A couple of young women from Brazil were ogling the bike. I said they could take pictures of themselves on it if they'd take one of me. Here's the Dam picture.
I had stopped a couple of times along Lake Mead. I was told it would be "very low". This is "very, very low".
I continued down U.S. 93 to Kingman and hit Route 66. There's a nice little Visitor Center there with a Route 66 Museum. Lots of references to The Grapes of Wrath. I never read it. I never saw the movie. I think I will now.
When I was getting ready to leave, the right lens fell out of my sunglasses. I thought I'd better do something about it since I would be headed west in the afternoon. I started following signs to the Harley dealer, figuring I might be able bum tools from them. Shortly after missing the turn for the Harley shop, I found a drug store and the very nice woman at the pharmacy counter let me use a jeweller's screwdriver for five seconds to fix my glasses. There are nice folks in Kingman.
I continued on to Seligman. It was pretty dead on a weekday afternoon. I easily found the Mini Mart. I didn't see my friend there looking for dumplings.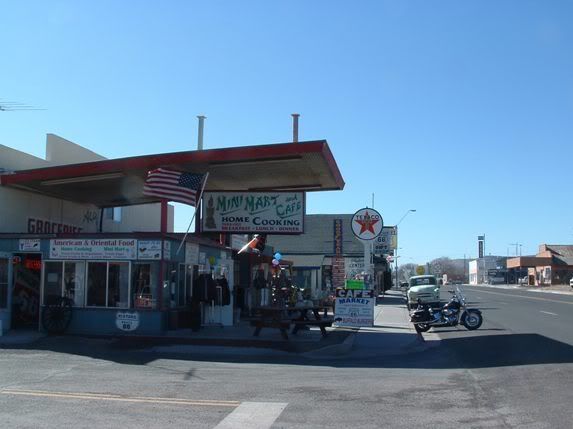 I did have a hard time getting the Eastern European tourists to get a good picture of me in front of the place. This was the best they managed. At least I can prove I was there.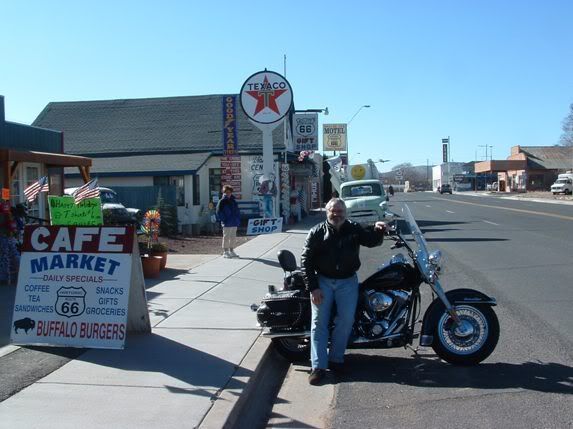 I didn't see if they had dumplings. Instead I got a burger across the street at Delgadillo's Snow Cap. It was a quintessentially American experience.
After poking around the souvenir shops for a bit, I headed back to Vegas. This is what most of Arizona Route 66 looks like today.
I went back by way of Laughlin and up US-95, but it was getting late... and COLD. It musta gone from 60 to 40 in about five minutes when the sun set. So I didn't stop, I just pressed on back to LV. I did start to panic a bit when the low gas light came on with a mere 140 miles on the odometer. Not much range on that Harley. Gas in Searchlight was about the most expensive I found. Something like $3.60 for premium.
It was a fun way to kill a day. I put about 400 miles on the bike. I have friends in Phoenix and Moab, but either would have been a two-day trip. Maybe next time.
I was kinda disappointed that I didn't meet up with the dumpling guy.
---
If you look at the map and don't care where you are, you're not lost.

2000 K1200LT
1977 R75/7
1962 R60/2
Re: In search of Route 66
---
Nice story and a nice ride thanks for sharing,
sorry to hear about your disappointment for not meeting up with the dumpling guy
I can sympathize because it's very similar to my disappointment
There I was I was reading about young Brazilian women taking pictures on your Harley
and all you show us is one of yourself.
---
Hans
St. Petersburg FL
2002 K1200LTE
"Silver Buffalo" Totaled 5/06
2005 LT
"Esperanza"
BushtecGenesisTrailer
"Our preferred long distance carrier"
Re: In search of Route 66
---
Thanks for the thought. I was going to rent a convertable, but a bike sounds like a better idea. Did you have to bring your own coat and helmet or did they supply them?
---
Keep your booger picker off the bang switch, until you want a loud noise. DVC
Senior Member
Join Date: May 2006
Location: Concord, NC, USA
Posts: 183
Re: In search of Route 66
---
Great story! And thanks for giving me an idea. I want to ride on some part of Route 66 - just to say I've done it - but I don't care to do the whole thing. Now I have a new plan. Thanks again.
Re: In search of Route 66
---
Quote:
Originally Posted by 2Alpha
Thanks for the thought. I was going to rent a convertable, but a bike sounds like a better idea. Did you have to bring your own coat and helmet or did they supply them?
I did bring my own hat and coat, but they have them at the rental place. I prefer my own helmet with my own cooties in it. I've also found that most rental places have a wide selection of plastic soup bowls and a couple of 3/4 helmets, but rarely a full-face.
I probably looked somewhat atypical riding a black big bad biker bike wearing a white full-face helmet.
If you are thinking about renting a bike, shop around. I've rented from Escape Eagles and Dream Car Rentals in LV and the Harley Dealer in Reno.
The EE operation seemed much more organized, the bikes were in excellent shape, and there were actually people there to help customers at the time the sign on the door said they were supposed to open. The bike was about the same price as DCR, but it was for 9:00 am to 5:00 pm.
As I mentioned, the DCR office was still closed when I got there at 8:00, and they dawdled for nearly an hour before I was on the road. Anything over five hours becomes a 24-hour rental. One bulb was out (one of the spotlights) and the fork lock appeared to be non-functional on the DCR bike. They did not supply a cable lock or anything like that, so I was a smidgen apprehensive about parking it overnight at the hotel.
Both times I rented in LV, we were staying at the Luxor. EE is a $20 cab ride away; DCR was walking distance.
EagleRider and the Harley dealer also rent bikes in Vegas. I have heard that nearly every Harley dealer in the country now rents bikes.
In Reno, the Harley dealer was prompt, professional, and easy to work with. It was the last weekend they were renting for the year, so they let me have the bike for 24 hours (the fellow actually said "for as long as you want to keep it") for $99. My only complaint was the very loud aftermarket exhaust had my ears ringing half way through the day.
gfs, As far as Route 66 is concerned, several others gave insight
here
. Arizona seems to be leading the charge to preserve what's left of The Mother Road, and have made it very easy by re-designating it as AZ SR-66, plus the old shield-shaped signs that say "Historic 66". When I was picking up maps at AAA, they gave me a draft of a booklet they are preparing on Route 66. I was thinking the same thing as you... Just to say I did it. And for that, a Harley seemed to be the right vehicle for the task.
SilverBuffalo, I must be getting old. It didn't even occur to me to take a picture of the young Brazilian women draping themselves over the bike. I'll try to do better next time.
---
If you look at the map and don't care where you are, you're not lost.

2000 K1200LT
1977 R75/7
1962 R60/2
---
Last edited by juggler; Mar 20th, 2008 at

9:40 am

.
Senior Member
Join Date: Sep 2007
Location: Anaheim, CA, USA
Posts: 684
Re: In search of Route 66
---
Re: In search of Route 66
---
Great story. A few years ago I was considering a Rt 66 trip but either end is quite a ways from Seattle. It occured to me one morning there are lots of old US Highways like 66 that are still in use. Check Road Trip USA's website. Great info if you want to cruise some old 2-lanes. I just got a bike to replace the one stolen back then and plan on a big NW interior trip this summer.
Re: In search of Route 66
---
Durn you, Old Red, do NOT tell anyone about all those great motorcycle backroads around here, especially NOT the loop around Mt. Rainier, 101 around the Olympic Peninsula, and ABOVE ALL, NEVER even disclose the existence of the North Cascades Highway. We're trying to keep it a secret.
---
If you look at the map and don't care where you are, you're not lost.

2000 K1200LT
1977 R75/7
1962 R60/2
Re: In search of Route 66
---
Not to worry, it rains here constantly so the riding is no good anyway. The curves are wet and the scenery is nothing but a grey abyss. No one in their right mind would own a motorcycle here let alone actually travel here to ride.
Currently Active Users Viewing This Thread: 1

(0 members and 1 guests)